Handmade Natural Herbal Ayurvedic Soaps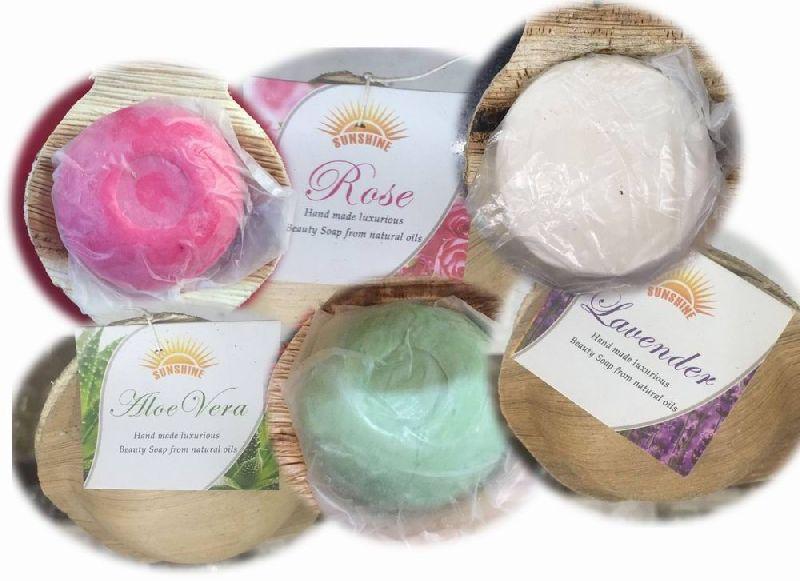 INR 60 / Piece(s) ( Approx )
Min. Order (MOQ) : 100 Piece(s)
Natural ingredients used for making handmade soaps. Free from chemicals and artificial ingredients. Soaps are having huge demand and being supplied to many states in India from Kochi Kerala. Handmade soaps for Bulk orders 100 piece above are accepted. Handmade herbal soaps for export also available.
Packed in either areca plm leaf case or as per packets by buyers. areca plm leaf cases are eco friendly, early degradable and saves paper box i.e. saves trees, so go for areca plm leaf cases.
Brand Name : AAVIO (TM)
Shape : Oval, Round, Square
Form : Solid
Material : Lemon, Neem, Rose, Tulsi, Red Sandal
Extract : Basic Cleaning, Good For Skin, Good Fragrance, No Side Effects, Chemical Free
Handmade : Handmade
Packaging Type : Areca Palm Leaf Case
Feature : Natural, Skin Friendly, No Side Effect, Cleans And Nourishes Skin.
Application : Bathing, Parlour, Personal, Skin Care
Color : Green, Off White, Orange, Pink, Red, White
Type : Natural Handmade Soap
Weight : 100gm, 50gm, 75gm
Shelf Life : 1year, 2 Years
Style : Bar Soap
Size : 30 Grams To 200 Grams
Ingredient : All Natural, Natural Oils
Rakta Chandan Herbal Soap : 60
Handmade Lavender Soap : 60
Handmade Rose Natural Soap : 60
Coffee Fragrance Handmade Soap : 60
Oud Agarwood Handmade Soap : 99
Handmade Natural Turmeric Soap : 60
Handmade Herbal Noni Soap : 99
Ceylon Cinnamon Handmade Soap : 150
Handmade Jasmine Soap : 60
Handmade Herbal Neem Soap : 60
Handmade Thulasi Natural Soap : 60
Kasturi Manjal Handmade Herbal Soap : 60
Handmade Kashmir Saffron Soap : 99
Handmade Musk Soap Bar : 99
Sandal Chandan Natural Handmade Soap : 60
Additional Information:
Payment Terms : L/C, T/T
Packaging Details : Each Soap in wrapped in thin poly cover then in natural arecanut palm leaf cases.
Delivery Time : 2-20 Days