V6 Submersible Pump Sets[1] (V6 Submersible Pump )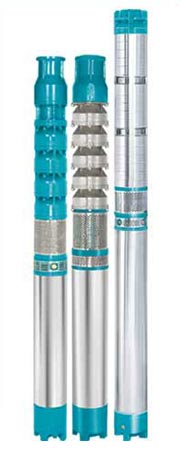 Application
irrigation (sprinkler, Drip)
drinking Water Supply
farm House Water Supply
industrial Water Supply
cooling Water Circulating Systems.

features
easy to Install and Low Running Cost
superior Design, High Quality Material and State-of-the-art Manufacturing Process Ensure Minimum Maintenance
easy Assembling, Dismantling
energy Efficient Radial and Mixed Flow Models
improved Hydraulic Design Ensures Better Efficiency, I.e. the Max. Head per Stage is as High as 15 Meter in Radial Flow Design and 12 Meter in Mixed Flow Design, Which is a Unique Feature for V.6 Pumps
designed to Start At Low Voltage and Withstand Wide Voltage Fluctuations.
<b>Material Of Construction Pump</b>
| NAME OF PARTS | V-6RADIAL FLOW | V.6MIXEDFLOW |
| --- | --- | --- |
| Impeller | Brass I Stainless Steel | Brass I Stainless Steel |
| Diffuser | Brass I Stainless Steel | Brass I Stainless Steel |
| Stage Casing | Stainless Steel | Stainless Steel |
| Pump Tie | Stainless Steel | Stainless Steel |
| Bearing Bush | Leaded Bronze | Leaded Bronze |
| Pump Shaft | Stainless Steel | Stainless Steel |
| Suction Bracket | C.I.I Stainless Steel | C.I.I Stainless Steel |
| Hardware | S.S. 304 | S.S. 304 |
Material of Construction motor
NAME OF PARTS
V-6RADIAL FLOW
V-6 MIXEDFLOW
Shaft
S.S. 431
S.S. 431
Bearing Bush
Leaded Bronze
Leaded Bronze
Thrust Bearing
S.S. & Eng. Plastic
S.S. & Eng. Plastic
Lower & Upper Housing
C.I.
C.I.
Stator Shell
Stainless Steel
Stainless Steel
Hardware
S.S. 304
S.S. 304
Operating Limitations
V-6 RADIAL FLOW
V-6 MIXEDFLOW
H.P. Range
3 H.P. to 25 H.P.
3.0 H.P. to 25 H.P.
Head Range
20 Mtr. to 400 Mtr.
20 Mtr. to 300 Mtr.
Discharge At Duty Point
50 Lpm. to 600 Mtr.
250 Lpm. to 1200 Mtr.
Max. Discharge
600 Lpm.
1200 Lpm.
Max. Head I Stage
15 Mtr.
12 Mtr.
Max. Head I Stage
15 Mtr.
12 Mtr.
Operating Voltage
160-250 Volt (1 Phase)
300-440 Volt (3 Phase)
300-440 Volt (3 Phase)
Max. Temp. of Liquid
40o C
40o C
Max. Permissible Amount of Sand In the Water
50 Gram I Cubic Meter
80 Gram I Cubic Meter