Belo Kojic With Tranexamic Acid Whitening Soap (P0007X1)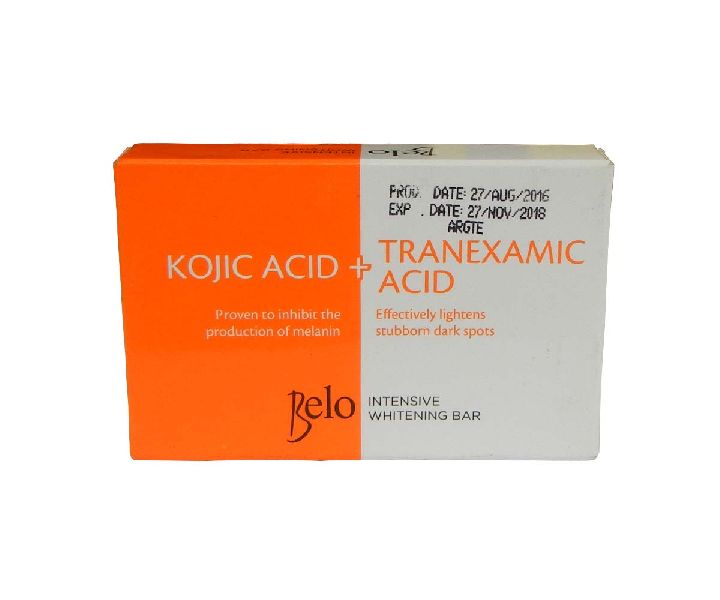 INR 400 / Piece(s) ( Approx )
Min. Order (MOQ) : 1 Piece(s)
"net contains: 65g
belo intensive whitening bar claims to be belo's most effective product innovation. We all know kojic acid, as it's the most popular whitening agent used in japan. One peek at our grocery shelves alone is enough to let you see its popularity also here in the philippines. But what's unique about belo intensive whitening bar is that it combines both kojic acid and tranexamic acid - which makes it 64% better than products with kojic acid alone.
Kojic acid is an organic compound that effectively inhibits the production of tyrosinase and melanin giving skin a visibly lighter appearance.
Tranexamic acid, on the other hand, is a peptide proven to inhibit inflammation and melanin formation. It is ideal for stubborn dark spots that do not respond to other skin lightening ingredients.
Direction for use:
apply the soap on wet skin softly massage soap throughout your whole skin especially on the most affected parts. DonĂ¢€™t rub the soap harshly. Avoid the soap entering into eyes, nose or mouth. Keep the soap on your skin for at least 60 seconds than wash it off. If you feel itching on any part of your skin then stop the usage of soap."