Renew Glutathione Herbal Skin Whitening Soap (P0001X1)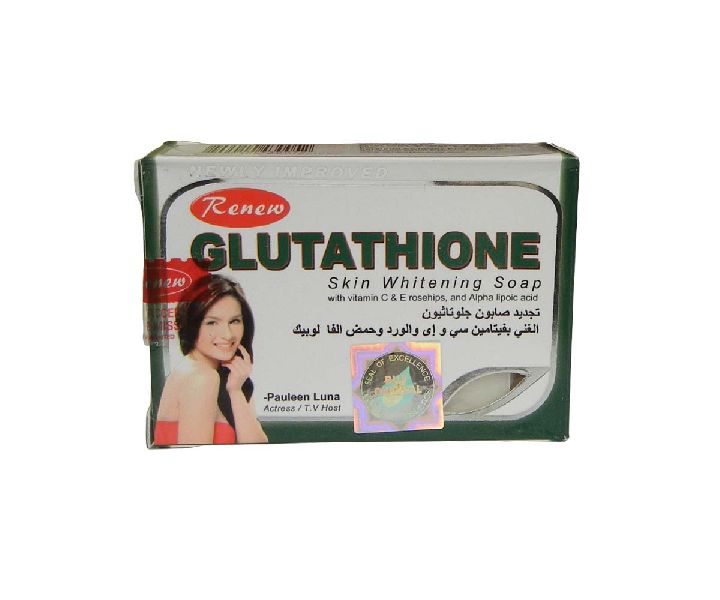 INR 400 / Piece() ( Approx )
Min. Order (MOQ) : 1 Piece()
"net contains: 135g
beautiful, fair and smooth skin is desired by every person, use renew glutathione soap which is an effective skin whitening soap for all your problems. It contains effective and powerful anti-oxidants i.e. Glutathione that inhibits the formation of melanin which is responsible for dark skin by removing toxic and free radicals from body. It also enhances metabolic activities revealing fair, white and glowing skin. Glutathione is a natural compound which is very safe in even bigger amounts for the body, so thissoap is completely safe and very effective for skin lightening.
Glutathione is a very popular active ingredient widely used for skin lightening and softening purposes. Renew glutathione soap contains glutathione and other important anti-oxidants, anti-aging properties and skin whitening agents.
Renew glutathione is a gentle and efficient skin whitening soap that comprises of essential oxidizing properties to give your skin a smoother younger, and fairer look. regular usage of renew glutathione soap will provide you more radiant, pinkish and beautiful skin.
Direction for use:
apply the soap on wet skin. Softly massage soap throughout your whole skin especially on the most affected parts. Don't rub the soap harshly. Avoid the soap entering into eyes, nose or mouth. Keep the soap on your skin for at least 60 seconds than wash it off. If you feel itching on any part of your skin the stop the usage of soap.
"