Rubber Transmission Belts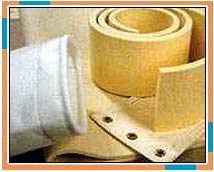 Beltech Rubber Transmission Belts comprise of several plies of cotton canvass with thin rubber coating and are suitable for power transmission or indoor transport of semi-finished products whether on roller or sheet metal. These are also used as bucket lifts for raising small material such as gift, screws, paste etc.

When used as belts in oil resistant versions they are suitable for transporting sheet metal, metal parts, skin & for sorting benchers. It is also used in Agriculture sector for irrigation of fields.
Feature : Best Quality, Stretchable, Strong Strength
Structure : Belt Conveyor
Pattern : Plain, Strips
Type : Rubber Transmission Belts
Application : Automobile Industry, Electrical Industry
Specification
Belt Width
25 mm to 1200 mm
Belt ply
2 ply to 12 Ply
Belt Thickness:
Plies
Thickness
Range MM
3
3.6
4.4
4
4.6
5.6
5
5.8
7.0
6
7.0
8.4
Belt Construction
Square Edge
Round Edge
Belt Colours
Beige, Red
Camel, Grey,
Green or as required
Tensile Strength of Fabric
Finished Belting per mm Width Wrap
28 ozs.
32 ozs
34 ozs.
3.00 Kg.
5.00 Kg
6.00 Kg.
Average Wrap Elongation
Fabric of Finished belting under a load of 1.8 Kg./mm width per ply.
Ply Adhesion
Per 25 mm width
28 Ozs
32 Ozs.
34 Ozs.
8 Kg.
7 Kg.
7 Kg.
Rubber Transmission Belts
Normal Belt width
Tolerance Belt Width
25 - 63 mm
2.0 mm
75 - 125 mm
3.0
140 - 250
4.0
280 - 500
5.0
500 - 900
7.0
900 - 1200
9.0
Tolerance on ordered length 10% of Belt
RATINGS
Maximum ratings in KV per cm. Width of Belting at 180º arc of contact
Type of Fabric
Weight of Fabric g/m2
Pulley Diameters
Belt Speed m/s
Rating per cm Width per ply
28
810
250mm
5
0.12kw
32
915
250mm
5
0.15kw
34
910
250mm
5
0.12kw
MINIMUM PULLEY DIAMETERS
Belt speed & Belt plies in mm Maximum Belt Speed ( Meters per second)
No of plies
10
15
20
25
30
3
90
10
112
140
180
4
140
160
180
200
250
5
200
224
250
315
355
6
250
315
355
400
450