7 Effective Benefits of B2B Trade Portals For Marketing And Business Development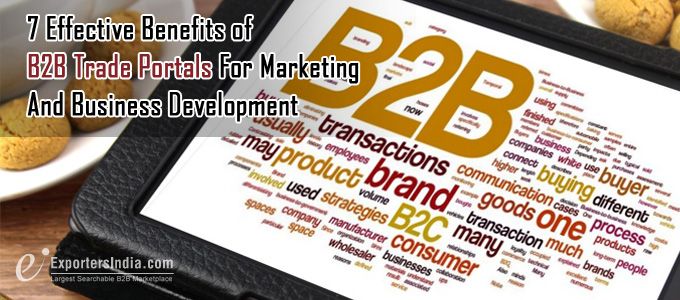 From the boring traditional brick and mortar stores to the intuitive and interactive B2B trade portals; the B2B world has grown manifold since the integration of internet into every aspect of business. Where the sellers are leveraging upon these trade portals to expand their reach and gain more purchasers cost-effectively, the buyers are using B2B online marketplaces to get the best sell-leads for their business. The benefits these trade portals carry are many from doing the research to introducing new products, and from getting sales-leads to delivery of the product. If you want your business to grow faster, then overlooking or estimating trade portals isn't a good choice.
Make Small Investments, Get Big Benefits
The good news is B2B trade portals are cost-effective and wide-spread, and thus, are no less than blessings to B2B sellers. These portals enable the B2B sellers to reach a great number of people, shockingly at low investment. In addition, social media (like Facebook, YouTube) also provides low-cost advertisements to B2B sellers to boost their businesses.
Easily Accessible By A Huge Number Of Sellers And Buyers
Wouldn't it be more beneficial for your business to be known by millions of people as this can help accelerate it? Obviously yes, and for this, trade portals host trade seminars, events and shows, which help in marketing and promotion. One of their best features is that they are easy to access and operate without any troubles.
Best Place To Do Market Research
The digital ways to do research have overtaken the old, traditional ones; and the new ways don't cost you a fortune. Online surveys being easy, respondents like them. Some studies suggest that many respondents prefer online surveys than on paper. Research providers, such as YouGov and Research Now, have large groups of customers willing to fill surveys online.
Generate More Inbound Leads
Inbound leads are on average 61% less costly than outbound leads, and they can be easily generated by trade portals. Inbound leads are generated when B2B sellers come to the portal themselves looking for some product or service, or are brought to the portal through advertising sources.
Say Bye-Bye To The Moderators
Manufacturers and small business owners find each other on these trade portals, and this allows them to have a direct deal without involving other sales moderators. As a result, it cuts down the additional expenses done on sales moderators.
Make Your Brand Known
A brand isn't really a brand until known by a plethora of people. The reason why big companies and small businesses spend a good deal on marketing – be they advertisements, blogging or press releases – is to make their products known to a great number of people.
Reduce The Several Risks
Trade portals provide businesses a faster reach to their customers, which also lowers the risk while entering a new market. Some of the risks which these portals reduce are financial risk – as they help the buyers choose right product and quantity, delivery risk – as the reputable brands on these portals are known for their delivery on time, or service risk – as the reputable companies on these portals can be trusted for their long-term and uninterrupted delivery.
Conclusion
Be it a large company or a small business, B2B trade portals shower their benefits on them equally. If you desire to reach more customers faster and increase your sales with low investments, and reduce the several risks of business; B2B portals are known to bring desiring profits the sellers and the buyers as well.
Category Tags
2 thoughts on "7 Effective Benefits of B2B Trade Portals For Marketing And Business Development"
Whats up everybody, here every person is sharing such familiarity, therefore it is nice to read this website, and I used to pay a visit this blog everyday.

Tthink the admin of thіs web page іѕ actually ѡorking hard in favor of hiѕ web sіte, because here every material is quality based mateгial.