Advantages Of A B2B Suppliers Directory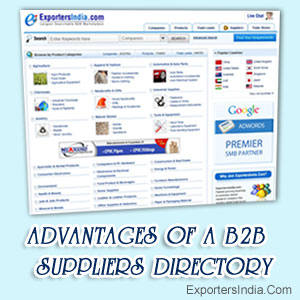 With 21st century being touted as the age of the Internet, it is become an apt medium for small businesses to expand their reach to global markets. Besides business expansion, the Internet has also provided small businesses with a potent tool in form of B2B Suppliers Directory, wherein the business owners can find the best & cheapest of suppliers.
Importance Of A B2B Suppliers Directory
A B2B Suppliers Directory holds information about all the big & small suppliers of a given product in different locations. For business owners, such a directory is good news indeed as they can easily find information about different suppliers at one place. The information provided in these B2B Suppliers Directories generally include location of the supplier, range of products offered, prices, contact numbers, etc. From a buyer's perspective, such information can be quite valuable as a buyer can easily make comparisons & choose the best supplier out of the lot. A business owner can even post buying requests on such online platform & also look out for used or new goods.
From supplier's point of view, a B2B Suppliers Directory can be quite beneficial in helping them in locating new leads, & for putting up 'for sale' adverts, etc. Not only this, it is possible to keep a check on what the competition is upto through these directories. A supplier can have a look at the kind of products/services/offers/discounts being offered by his competitor & plan his marketing strategy accordingly.
With the growing prominence of B2B Suppliers Directories, the Suppliers can widen their reach to larger scale & grow their businesses. There is a wide variety of opportunities for getting new leads through reverse auctions, tenders, etc.
With suppliers all around having an online presence on any of the multitude of supplier directories that abound on the Internet, a business not doing so, will only lose out on potential leads. In this age of intense competition in the business world, this could prove to be a very costly mistake for a business owner to make.
Category Tags
1 thoughts on "Advantages Of A B2B Suppliers Directory"