B2B Marketing Trends - 2012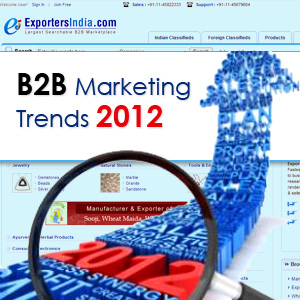 Charting the business trends of 2012 gives major indications towards online activities, especially in context of B2B marketing. In order to get additional advantage over rivals, entrepreneurs have to mold their strategies in accordance to the statistics and trends of 2012. The major indications of B2B marketing trends - 2012 are:
Competition of Content
With more content available for B2B buyers, now the competition of content would be harder than ever. Buyer's decision would be greatly influenced by the relevance of content, specific information, and technical details etc. All these have always had a great control on buyer's decision, yet with augmented availability of content now sellers have to pay added attention to quality, quantity and relevance of the content.
Utilization of E technology
With increasing power of online marketing and e mail marketing, E technology is supposed to be the strongest trend of B2B marketing in 2012. Less efforts and more results, is what going to delight the smart users (entrepreneurs) of advanced E technology. These smart users would also invest in automated software, which can help them to deliver marketing messages, filtered as per audiences' type, requirement, current demand etc.
Greater budgets for online activities
Since last few years, B2B companies have started assigning dedicated budgets for Online activities but in 2012, the amount is predicted to be greater than ever. Industrial professionals would have a greater and better budget for online catalogs, Online banners, industry specific websites, E-newsletters etc.
Active on Social Media
B2B marketers would continue to be live on social media. Along with twitter and Facebook, B2B marketers would have to be live on newer and upcoming online social hubs as well. In 2011, the power of social media has positively influenced the promotion and marketing of B2B companies, therefore the trend of remaining live on social media is expected to be continued.
Online B2B Directory
Category Tags
3 thoughts on "B2B Marketing Trends - 2012"
Heya! I am at work browsing your blog from my new apple iphone! Just wanted to say I love reading your blog and look forward to all your posts! Carry on the great work!

Thank you for the good writeup. It in truth was once a enjoyment account it. Look complex to more brought agreeable from you! However, how could we be in contact?

I am new to developing sites and I was wanting to know if having your blog title related to your articles and other content really that vital? I see your title, does seem to be spot on with what your website is about however, I prefer to keep my title less content descriptive and based more around site branding. Would you think this is a good idea or bad idea? Any assistance would be greatly appreciated.