B2B Portals: An Efficient Marketplace For B2B Buyers & Sellers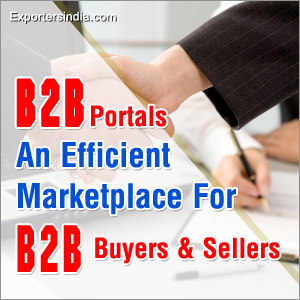 For companies that are seeking a cost simple and cost efficient marketing channel, there is no better platform than B2B Portals. What are B2B portals? Simply said, these are virtual marketplaces where B2B buyers and sellers can meet up and carry out trade. Companies that are in need of supplies, utilities and services can get contact business vendors that offer the same via these B2B Portals & hold electronic transactions.
How B2B Buyers & Sellers Can Benefit From B2B Portals
With the growing popularity of B2b portals, a considerable decrease in labor intensive activities has been witnessed. This is owing to the fact that with the introduction of B2B portals, many of the tasks which traditionally involved paperwork e.g. placing orders, invoices, inventory status, shipping logistics, business contracts are now done electronically which mean less manual labor.
Owing to the fact that in a b2b environment all the paperwork related tasks are carried out electronically, there is less scope for human errors. Less manual tasks means less chances of error. Even a task like placing orders which would traditionally have taken considerable time becomes simple and easy. All that is required is for the b2b buyer is to log into the seller's profile, fill in an order for the needed inventory & it is done.
Owing to all the benefits highlighted above, there is an overall improvement in the supply chain & also in the communication link between the buyers and suppliers. There is timely exchange of information and also in the cycle time. The smooth flow of information from the buyers to the sellers and vice versa ensures that the cycle time is effectively reduced.
With so many advantages for both b2b buyers and sellers, B2b portals have indeed proved their worth in the world of ecommerce.
Category Tags
10 thoughts on "B2B Portals: An Efficient Marketplace For B2B Buyers & Sellers"