B2B Portals: The Most Effective & Profitable Marketplace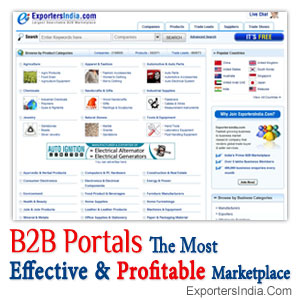 In simple terms, B2B Portals are a common online platform where different Manufacturers, Retailers, Suppliers, Distributers, Exporters and Buyers can meet, buy and sell different products. While some B2B Portals are meant for international clients, others may be targeted at the regional or local ones. B2B Portals are the best way to promote your business. There are many advantages to a B2B Portal.
Why B2B Portals Are A Great Idea For Your Business?
Common Platform - As mentioned above, the first and foremost advantage of B2B Portals is that it is a common platform for the buyers and sellers to meet. One can promote their products and services in the most effective manner, get a target group of clients, build a healthy working relationship through B2B Portals
Less Investment - The cost of investing in B2B Portals is very less & small businesses (or new start-ups) will find it to be of great help in promoting their business.
Advance Search - A buyer can look for just the right kind of products/services he/she is looking for. Not only to a buyer, the B2B Portals offer advanced search choices to all parties to fulfill their requirements efficiently.
No Barriers - Being a virtual platform, B2B Portals transgresses national and international boundaries. There are absolutely no trade barriers. So a manufacturer can effectively carry on trade and business with a retailer sitting in a different continent altogether.
An Effective Platform - Through B2B Portals, both parties can carry out effective communication, get instant feedback, resolve queries, etc. On B2B Portals, there are no place barriers or even time related restrictions. Interested parties can display their complete details - about the company, their products or services, complete range, etc.
Free Membership - Anyone is free to become a member on these B2B Portals, in most cases. But to get extra deals or else excellent offers, one can become a premium member. They also get top listings on the portals, which is good for business.
Customer Interaction - There is regular interaction with clients to ensure proper client satisfaction and to build healthy professional relationship.
In today's highly competitive business environment B2B Portals offer a cost effective and an efficient way to promote your business.
Category Tags