Be A Smart Marketer, Think Like A Manufacturer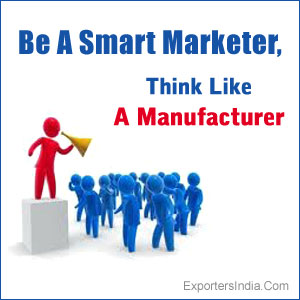 The role of marketers is not just limited to preparing marketing strategies and dealing with processing of any commodity. These days, marketers have widened the horizon of their think tanks and started following the footprints of manufacturers to broadly understand the market and marketing ways. Due to the fact that marketers are conversational bodies between producers and consumers, they are expected to be a true informer about any product. And for that, it becomes highly important for them to actually know the required details about the brand and the associated product in a same way as its manufacturers know. Following are two economic principles to influence masses:
Scalability
Scalability refers to the ability of a system or network to handle increasing volume of work in an efficient way.
Why Scalability Is Important?
Websites can handle enormous volumes of traffic by proper configuration of the product details

Webinars are more scalable than seminars

Teleprospecting is more scalable than field sales people
Conversion
Conversion is just like toolkit. It provides a required framework to decide the unit cost of any product or service.
Why Conversion?
At the top of the B2B funnel, this principle is given a high priority

Marketers can anytime test a costlier list source to see whether the response rates are going higher or not

Helps in overall growth and improvement of marketing

Keeps a track on the ongoing trend
With appreciation to the sophisticated marketing automation tools, content strategies, and better data, marketing has made it possible to establish less amount of conversation with the help of least scalable resource. The marketers should harness the vast potential of manufacturing information in a better way in order to improve the economic efficiency of marketing operations.
Category Tags