Before Selecting Any Manufacturer, Entrepreneurs Should Ask This!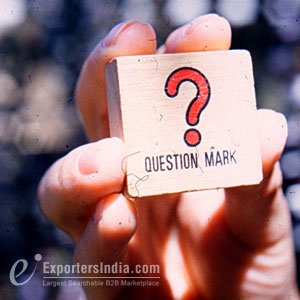 For a flourishing and prospering business, choosing a right manufacturer is not a thing to be taken lightly. The success or the failure of your business is, after all, determined through the work done by your manufacturing partner. Work by a manufacturer is central to not only the growth of the business but also to the reputation of an entrepreneur. But now the question arises that how we can get assured that this manufacturer is right for us? Fret not and simply ask the following questions to the manufacturer before the selection:
Question #1
What's The Best Way To Bring Our Expectations Into Line?
One of the most important questions to ask a manufacturer is how you both can align the expectations. It is a fact that everything in manufacturing is a 'quid pro quo'. In every one-on-one meeting, you need to discuss all the expectations maintaining transparency as well as alignment on prospects.
Question #2
How Can The Partnership Help Us Both Grow?
It is very important to know whether the manufacturer you are choosing is capable of growing according to the 'need of the hour'. You need to weigh that your manufacturer can change with you as your business is growing and looking for a change. If your manufacturers can ramp up to accommodate your developing business, there you go with a long-term relationship!
Question #3
Who Else Are You Presently Working For?
There are many reasons involved in asking for the list of clients the manufacturer is dealing with. The primary reason being that you will come to know whether the manufacturer is sound and has a strong background or not since all of us wish to work with reputable names. Plus, you will also be ensuring that the list of clients is exclusive of any direct competitors.
Question #4
What's The Average Production Of Your Current Patrons?
On the face of it, this question may sound a bit out of context but this not the case. To not to be the low man on the totem pole, you need to have an overview of the order size of manufacturer's other customers. This is how you will be able to give substantial order sizes as compared to other clients that will be substantial enough to the manufacturer.
Question #5
What Is Your Aptitude Of Producing Products?
Yet another significant question that an entrepreneur should ask as the ability to produce is vital for long-term triumph. If you are really anxious to put forth your products in the market, you need to ensure that whether the manufacturer is capable of producing the order on time or not. So, it is very much important to know the same!
Question #6
In Case Of Delays, What's The Discount?
One of the recurring issues with almost every manufacturer is - "DELAY". Talking on grounds of actuality, it is the manufacturer who has complete control over its team as well as the material ordering processes. And so, you need to ask for discounts and you can even fight for discounts at times if such situation takes birth.
Question #7
How Many Times The Quality Of The Product Is Checked And On What Factors?
One of the foremost and the imperative factors in the manufacturing process is 'quality assurance'. You need to know how many steps the manufacturer is taking to ensure the quality of the products plus what are the tests that ascertain product's superiority. Stringent quality checking at every level of production lowers the risk of faulty products and the components used.
Amongst many other questions, aforementioned basic yet important questions will take you to the right manufacturer, you have been looking for. Be attentive and frank in asking questions so that everything is clear-cut from the very beginning. This will show the manufacturers that you consider even to the minutest details and so, excellent results will be enjoyed.
Category Tags
2 thoughts on "Before Selecting Any Manufacturer, Entrepreneurs Should Ask This!"
This is a good post. I really like it. This post is quite unique and extraordinary. The author must be very talented.

I am really loving the theme/design of your weblog. Do you ever run into any internet browser compatibility problems? A few of my blog audience have complained about my blog not operating correctly in Explorer but looks great in Opera. Do you have any solutions to help fix this issue?