Business Boxing - How to Generate Sales Quickly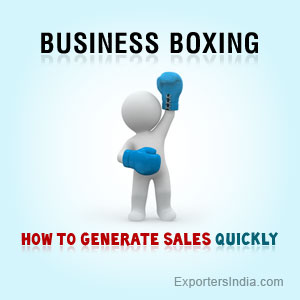 A cherished dream of any website owner is that his website should generate the maximum sales. The sole means of doing this is generating more and more traffic. Many of us would like to know how to increase traffic on our site. Generating traffic on a newly created website is not that difficult to achieve. Patience and perseverance are the tools to get more traffic to your site. You have to work on it as often as possible.
Most online internet marketers are very keen in generating sales on their site and you could have more sales if you do have high volumes of traffic on your site. Generating traffic on your site is a challenging work but it is imperative as 'No traffic means No sales and More traffic means More sales.' That's how the online business and marketers works.The following techniques may come in handy for generating traffic on your website.
Pursuing these techniques to generate traffic on your website is very essential to the success of your online business. These easy to follow steps would surely generate a lot of traffic, thereby creating huge sales.
Category Tags
23 thoughts on "Business Boxing - How to Generate Sales Quickly"