Changing Trends In The International Market.
What is International Trade? International Trade is associated with the exchange of goods, capital and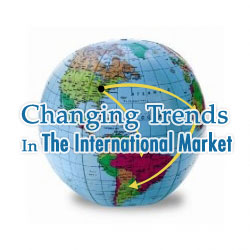 services across the international boundaries or terrains. It also embodies a noteworthy share of gross domestic product. All trade businesses depend on affiliations of two groups of people - customers and suppliers. An import trade business generally import products from foreign countries and sell these products to the national market. Whereas, an export trade business emphasize on dealing out and manufacturing inland goods and services, and exporting them to the foreign countries.
Globalization, advanced technology and transportation, industrialization, and outsourcing have influenced the progress of International trade. Thus, absence of international trade would have limited nations to trade their goods and services within their own borders.
Drifts in the International Trade The dynamism that International Trade is experiencing is mainly due to cutting edge technology. Now establishing a new business is not that tough, which it used to be before advancement. But now the situation has completely changed with the coming of internet. Internet is widely used in most of the developed countries and is accessible by everybody.
Establishing overseas relationship before was a difficult task, but with the coming of internet it is just a click away. That means you just have to log on to send emails, converse with customers and suppliers, likewise it facilitates you in making purchases online with credit cards. This indicates that the International trade prospect is packed with many opportunities.
Now, starting a new business or expanding the existing one is no more a hassle. With the availability of online directories, you can find updated information related to your business. Nothing is more convenient than internet as it offers the greatest speed and expediency.
Moreover, the development of technologies like Voice over IP, through which you can make free calls to any part of the world, has eased the traders from making costly international calls.
For the business traders there is no other option than looking beyond the local market as the domestic market have been drenched due to its size. Hence, they are aiming to penetrate into overseas market.
The obstacles to retrieve an overseas market have been dropped, or smothered overall. With the emergence of internet you can source out all the essential details such as contacts, company profile etc. thus through this write up you must have gained knowledge about how the international trade is changing and how a business has to cope with it.
Category Tags