Cold Calling Tips For B2B Marketing.
Marketing has several facets to its domain, especially in recent times; the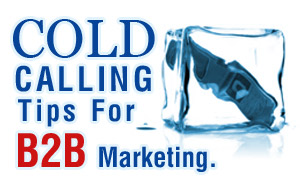 marketing guru's have evolved new and innovative ways of generating trade leads and capturing the prospective client base. One such recent development has been Call based marketing. Call based marketing holds prime importance especially when it comes to Internet based markets viz. B2B Portal.
What is Cold Calling?
Cold Calling was introduced as a marketing strategy based on telephonic conversations. It's a process of reaching out to your prospective clients, by means of telephone, especially when they were not expecting any such kind of interaction. The term cold is used in the term, to denote the fact that the client wasn't expecting to be contacted by a sales person, especially via cellular means.
Issues with Cold Calling
Cold calling or selling is not natural to any and every one. Even experienced marketing executives face the general as well as specific problems related to the call based marketing. Some of the frequently faced challenges rise because of the way to present your company and product, script based recital for marketing, the mood of the clients, timing of the call and your personal rapport with the clients. This leads to a general outcome, i.e. clients slam or hang the phone down straight away. This problem is graver in the case of B2B marketing because here you have to sell a product of one of your existing clients to his prospect.
Tips for Effective Cold Calling
Now comes the toughest part, How to make Cold Calling effective, interactive and profitable, so that the goal of making a call is achieved. There are many ways of doing so, right from the ones listed in the thick managerial journals to the ones adopted by the recently booming BPO sector. However, as the saying goes "Old is Gold", the tried and tested means of Cold Marketing Calls are something which will ensure your success as an efficient Cold Caller in B2B Marketing Segment. Here are some of the basic cold calling tips that will bring if not glory and honor at least success to you as a cold caller.
If you are a starter, try using a pre written script, however don't just use it for recital, use it as points and frame your presentation as per the client you are talking to

Don't just keep talking on your own rather make the conversation interactive. Be flexible and listen to the needs of the client, whom you want to sell the product, there might be something else also you might be able to sell to him

In case the client is not so receptive about your sales proposal, keep calm and express this in your voice

Avoid aggressive sale, it generally doesn't work in Cold Calling Segment. Even while asking for information, ensure that your voice is friendly and inquisitive

Presentation matters the most in the case of Cold Calling. Please accept the fact the client you are calling, doesn't yet know that he needs the products or services offered by you. Try explaining this fact to him in a helpful manner.

As a cold caller you must be friendly, outgoing, assertive and helpful. You also must believe in yourself and your ability to help.
So, here are the golden rules of Cold Calling, which will transform your personality from a passive caller to successful call based marketing agent. Follow these and achieve a guaranteed success.
Category Tags
3 thoughts on "Cold Calling Tips For B2B Marketing."
I am really enjoying the theme/design of your site.

This article was great indeed, its very informative especially to those newbie here in the industry. We really do need a prospect to do the cold calling in our business. And we must be aware of things that are included to that field.

"Quality is the life of one company." A real good faith business websites ensure all goods quality! Really Appreciable job done by you to prepare such report on delicious topic "Cold Calling Tips For B2B Marketing". Thanks for sharing such idea's & Tips.