Copywriting Tips To Boost Online Business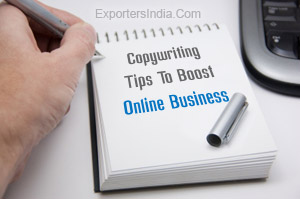 If you own an Online Business, you must be aware of the importance of effectively presenting your business proposition. Only a well written copy will be able to the successfully communicate your business message to the target market. You must be adept in the language, you select as the medium. Further, there are certain copywriting tips that will help you to boost your Online Business.
Adopt Interactive Writing Style
The first thing you need to do is to grab the attention of the reader. This may be a tough task but not really if you know the art of interactive writing. You must adopt a direct and interactive approach with the reader. Address the reader as "you". This makes the reader relate himself with the context eventually leading to a better participation in the further process. Arousing the interest and then sustaining it with an interesting narrative type of writing is one of the best ways for the presentation of your online Business.
The Content Must Incorporate 7C's
The content in the copy must meet the standards when weighed on the parameter of 7 C's of effective writing. These seven parameters are clarity, conciseness, continuity, coherence, completeness, correctness and consideration. In brief, the copy that you write for the presentation of your online business must be written in a concise manner; should deliver the message with absolute clarity; should render complete and correct information to the visitor.
Inverted Pyramid Writing Style
In the Inverted pyramid writing style, the most important facts are mentioned first followed by other details. Such an approach is very handy for online Business promotion because most of the visitors are looking for fast and factual information rather than reading the entire content. If, in the initial lines, visitors find the information relevant, there are chances that they will navigate further for specific search. You can be artistic and use figure of speeches to make your writing more appealing. But a noteworthy point is that, the content should be reader friendly. Especially, if you are promoting your online business there should be ambiguity left in the reader's mind after going through your copy.
Category Tags
1 thoughts on "Copywriting Tips To Boost Online Business"