Direct Exporting: Advantages and Disadvantages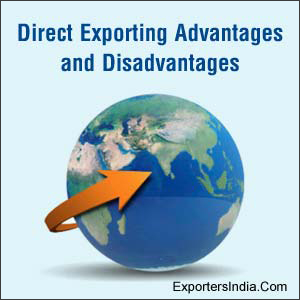 For those budding entrepreneurs in world of export, the term "Direct exporting" may seem quite obvious. But one may still wonder whether it is a good option. Well, here is a detailed description that offers you the pros and cons of direct exporting to help you make up your mind. Direct exporting, as the name describes, is when you directly export products to a client. Hence, you are solely in charge of the various processes such as market research, distribution, and dispatch and payment collection.
Benefits
Customer relations : You get to know your clients and so are able to offer better services. The clients feel more confident and secure since they are directly dealing with you. Feedbacks and suggestions from them will be available instantly.
Profits : No intermediaries imply greater profits for you.
Control : You have total control over the negotiations and transactions. The patents, copyrights and trademarks are protected in a more effective way. Since the dealings are done personally, you also get a better sense of the market.
Future Plans : You are open to several options for improvement and expansion. The future offers plenty of opportunities that are available for you to decide.
Drawbacks
Lack of Manpower : Building a client base requires people. Since you are exclusively in charge, every aspect of the business will demand your attention.
Lack of Resources : A business requires considerable amount of money, time and effort. You should give serious thought to whether you will be able to provide these adequately. It would be wise to have a detailed plan regarding aspects such as shipping, and delivery etc.
Reduced Customer Care : You may not be able to communicate back to clients as quickly as an agent. The business would also require online support if you are dealing in technical products. In that case, clients may also have technical questions that you must be prepared to answer.
After going through the various points, the balance of decision must have weighed down on one side. It is always advisable to do a detailed research of the present market trends and an analysis of one's own capabilities before coming to a decision. After all preparation is the key to success.
Category Tags
2 thoughts on "Direct Exporting: Advantages and Disadvantages"
For most recent news you hve to go to see world wide web and on world-wide-web I founnd this site as a most \\r\\nexcelent website for hottest updates.

Pretty nice post. I just stumbled upon your blog and wished to mention that Ihave truly enjoyed surfing around your blog posts.After all be subscribing in your rss feed and I am hoping you write again very soon!