Does My Business Really Need a Website? Small Business Website Myths Revealed
Gone are the days when people used to go through telephone directories or yellow pages for business related listings? The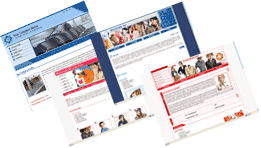 emergence of Internet search engines has reduced the use of such printed media tools for searching of products and services. Therefore, it is a complete waste to spend money in advertising there. Today, when most of the entrepreneurs and customers use Internet for searching products and services they require, having no website is harming their business at large. The need of good searchable website for the expansion of business is necessary because the potential growth of your business largely depends on your website. People have developed some myths about having website for small businesses, which is in turn hampering their progress. Through this, we are attempting to reveal such myths and clear the sky for bright future aspects.
Creating a website is expensive :- A good website can be developed easily within your budget if made through authentic resources. Plenty of options are available that can create excellent business website in limited investment, which in turn will attract new customers. However, the price largely depends upon the number of pages you want in a website.
Inadequate staff to update website :- Having a website which is not updated is even worse than having no website at all. But this problem has also been resolved with the emergence of Content Management Systems (CMS) that has made the task of updating website easier. Any person with basic computer knowledge can easily update the website through this software.
Why I need a website when my competitor doesn't have any ? :- Your decision to have a website or not should not be influenced by your competitors as it is going to benefit you, not them. They might be making huge profits without website, but you never know may be you surpass them after giving a new platform of growth to your business.
I can get away with a simple, freebie website :- One thing which we often come through is that most of the business websites are created in a brochure form, which makes them boring and unattractive to customers. As Internet is an interactive visual medium, so it's better to develop it in a more creative way rather than the outdated brochure form.
All that SEO stuff is too hard to figure out :- SEO or Search Engine Optimization is basically an art of using words and phrases on your website, which are commonly used by the customers for searching the products or services. The possible phrases may include your business type, you area or even country. Don't make things complicated, prepare a list of words which best describes your offerings, which are deeply analyzed by your search marketing vendor. These optimized key words will let your website have higher search engine rankings and consequently, grab the attention of more and more customers.
Category Tags
1 thoughts on "Does My Business Really Need a Website? Small Business Website Myths Revealed"