E-Catalogs - Effective Tools for Promotion of Products/Services and Business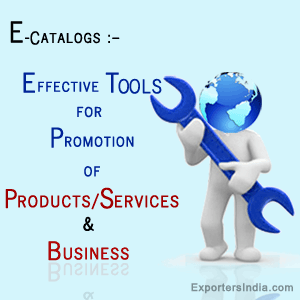 E-catalog is an online catalog where a company or a firm can showcase its offerings i.e. products or services to the global audience, which be can easily accessed on a computer. E-catalogs are basically digital web pages that exhibit the specific details of the product or service along with the relevant images. Moreover, with people turning more net savvy, these E-catalogs are a perfect platform for advertising products and services and for increasing the brand visibility of your firm or an organization. Read ahead to know the various uses and benefits of E-catalogs:
What An E-Catalog Contains?
Company Profile

Online Portfolio

Product/Service Catalogs

Launch pad for New Products

Interactive Product Manuals

Event or Show Notifications

Dynamic Online Advertisements

Company/Product/Service Presentation
Benefits
Easy editing, modification or updating of content or any other specific details with no cost unlike advertisements that are printed in newspapers, magazines or pamphlets where there is additional cost of re-printing

Effective presentation of your product or services with attractive graphics and understandable content. Attractive appearance and layout not only increases the interest of the users but also prompt them for contacting you.

Through e-catalogs, it is easier to have access to millions of users spread across every nook and corner of the world. You need not spent a large amount of money for printing million of paper catalogs to advertise your products or services in the international markets.

There is no requirement of a sales representative hence it directly has an influence on human resource savings and also on the cost that you may have to bear for hiring them.

These e-catalogs have a broader reach and anyone can access it anytime and from anywhere. Further, they can be easily downloaded for thorough reading.

Customers can easily browse through any information about the product or service in the catalog which makes the purchasing process very quick and effective.

It also eliminates the shipment and transportation cost and can double up the revenue of the company or a firm.
So, if you are thinking about promotion or marketing of your products and services, then why not think about E-Catalogues. It is an effective and interactive tool to showcase the details of your company to a wider audience.
Category Tags