Email Marketing: Easy and Effective Solution for your Business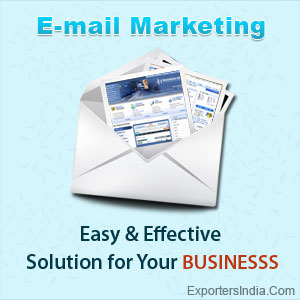 Internet marketing has emerged as the most powerful mode of marketing for small and big business houses alike. It is the most cost effective way of getting noticed among lakhs of competitors in the industry. Since internet has become an integral part of lifestyle of modern human beings, it is mandatory to have a distinct online identity. Whether you are a manufacturer, supplier, exporter or even a service provider- you must take the route of Email Marketing to get your products or services noticed in the market. One of the most powerful tools for marketing over the internet is Email Marketing. This method has revolutionized the online marketing scenario.
What is Email Marketing? Email Marketing is the most effective promotional strategy of online marketing. The process of Email Marketing includes sending electronic mails (popularly known as Emails) to prospective and existing clients for attracting their attention. Business houses adopt the method of Email Marketing to develop and maintain effectual business relations with other organizations of the industry.
What are the advantages of Email Marketing? Email marketing is a revolutionary tool for online marketing of products and services. Since it is based on personal involvement of both the receiver and the sender, it is greatly impactful.
Suggestions for Effective Email Marketing:
Always bring the credibility of your organization to prominence

Hire professional content writers to ensure that your content grabs the attention of your target reader

Plan a detailed strategy of email marketing

Keep the language and layout of the email simple so that it is easily understandable

Offer discounts via Email Marketing will definitely bring a boost to your sales
Email Marketing is an effective tool of online marketing. It is the most cost effective method of promoting a business on the internet. Moreover, this personal approach of marketing will make you stand out among your competitors.
Category Tags
1 thoughts on "Email Marketing: Easy and Effective Solution for your Business"