Exporter\\\'s Directory Is The Perfect Exporting Solution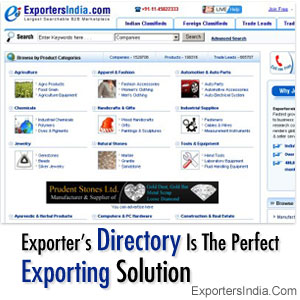 International Trade has been one of the most profitable and explored business forms since ancient times. Silk routes and Spice routes are the proof of this export-import business that has interested man right from the medieval times. In an increasingly globalized world, international trade is one of the hottest trending businesses prospects. Exporter's Directories are a one-stop solution for all those exporters and importers to share a common platform and involve in International Trade. International Trade has completely taken a new turn with the advent of these Exporters' Directories owing to their extensive coverage and proper listing.
Online Exporter's Directory: Boon For The Small Nations And Companies Online Exporter's Directory is an easy way for a company or the companies of a nation to get listed and thus get noticed by prospective importers/exporters. Many of the small companies struggle to make a name for themselves in the international field in spite of having immense potential and resources. Online Exporter's Directory comes to their rescue by giving them a place to share information in the international arena and thus attract international buyers and sellers.
Exporter's Directory Can Boost Your Business Low rates of import and export may hamper the proper economic growth of any nation. Exporter's Directory can help in improving the economy by promoting through its extensive list of all the exporting and importing companies of a nation. By this dissemination of information on different exporters and products, Exporter's Directory acts as an informative piece of document encouraging international transactions.
Convenient Classification Exporter's Directory is generally classified into several sub-groups and categories making it convenient for users to locate a particular exporting company. Most of the directories include two main divisions: name-wise details and product-wise details of the exporter's. This enables easy spotting, as sometimes one may just be familiar with the name of a particular company while in other cases only about the type of products the company deals in. There are numerous Indian Online Exporters' Directories where one can easily find complete information about prominent export companies from India. One can easily make a search depending upon the kind of product one is interested to buy or sell. While choosing the best directory to get listed in, it should be considered that an Exporter's Directory with reliable, updated and systematically listed information is always the most desirable one.
Category Tags
1 thoughts on "Exporter\\\'s Directory Is The Perfect Exporting Solution"