Free Small Business Marketing Tips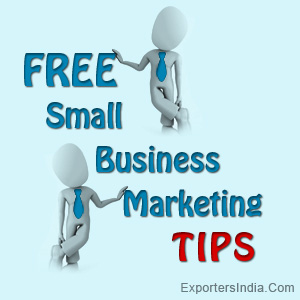 Marketing is an essential part of a company's attempt to create awareness about its brand. All the strategies of marketing are aimed towards hiking the sales of the company. Big and small entrepreneurs understand the need for using the various tools of marketing for creating a distinct identity amidst cut-throat competition. Be it a large advertising campaign or a humble B2B Email marketing strategy- The need for marketing can not be denied in any arena. Small Business Houses in particular definitely need some concrete plans in order to carve a niche for themselves in an industry full of competitors.
One of the easiest ways to be counted among the leading organizations in the industry is to get listed with a B2B Portal. It provides a wonderful opportunity to get more sales queries. Moreover, one can also start a website of the organization. It will act as the information centre while promoting it at the same time.
Following are some other effective ways of marketing a small business:
Business Cards A business card is an inexpensive tool for marketing. Offer your business cards to all your clients and prospective clients to ensure that they are able to contact you easily.
Proof of purchase Always provide a detailed bill for every purchase that your client makes. It will add to your credibility.
Emails The method of electronic mail acts as an excellent platform to develop and maintain contact with the clients. It is also a convenient way for informing all the people in your contact book about the new offerings of your company.
Thank You Messages Sending regular 'Thank You' messages to your clients will make your clients happy. This positive feeling will result strengthen the business relations even more.
Freebies Moreover, one can offer free discount coupons at regular intervals. Giving free samples to prospective clients will instill a sense of confidence about your company. Also, persuade your existing clients to recommend the name of your company to small companies of the same industry. There is nothing more effective than word-of-mouth promotion.
Marketing is not just for the large corporate houses. Small business houses can equally reap the benefits of small yet powerful promotional efforts. The key to effective marketing for small business houses is to use the existing resources optimally to gradually build their position in the market.
Category Tags
3 thoughts on "Free Small Business Marketing Tips"
Hey there just wanted to give you a quick heads up for your amazing writing.

Hey there! Thank you for the excellent article. Perfectly timed tips and exactly like what I'm certainly hunting for a long time. Thrilled to uncover this post and shared on some social network platforms. Going to bookmark this article too for reference in the future as well. Sustain the nice work.

Thanks for sharing most valuable information. If you have more information then please share with us