Generating Fresh Leads: A Necessity For A Booming Business.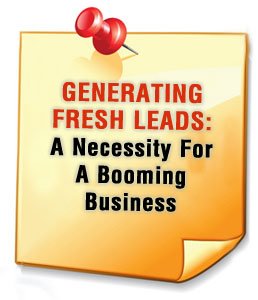 Lead generation basically refers to the generation or creation of interest or inquiry of the prospective customers into products and services of a business. Lead generation is the process of having an agency develop a website or forms a partnership with other websites to display or advertise your products or services. It is done for the purpose of winning new customers and creating a market for the business. Lead generation is not a new term but it has now developed a new approach, that is, through the use of internet. Lead generation is used by many different businesses but the major ones that use lead generation are educational institutions, office suppliers, insurance agencies and furniture stores. The major benefits of lead generation are:
It is advantageous for buyers because information about many businesses that offer different products and services can be requested and accessed quickly.

Sellers have the advantage of pitching their products and services to someone who has given them permission to do it.

It enables significant increase in the sales thereby increasing the revenue.

A company has control over the leads received and the geographical area where the company wants to conduct its business therefore it reduces the cost of generating leads and company only pays for the lead that they receive. Hence it is very cost effective.
There are various methods of obtaining fresh leads for your businesses and industries. Some of the major methods are:
Affiliate Marketing can be used for lead generation. Affiliate Marketing is the process of rewarding entities for each visitor or customer that the entity or affiliate has brought about on the site. For example some sites reward cash or gifts for the completion of an offer.

Search Engines are very effective in providing your business with fresh leads.

Pop-Up ads are also very helpful if you want to generate fresh leads for your business.

Apart from the internet, think of other interesting places where you can display your company logo or contact information and links to your website.

Keep yourself aware about exhibitions, workshops or expos taking place around you that might target the people fitting in your customer base.

Collaborate with other businesses to get more information from them.
As lead generation is one of the most important aspects of any business, following the above mentioned methods will help you generate more leads for your business and hence increase your sales and revenue.
Category Tags
7 thoughts on "Generating Fresh Leads: A Necessity For A Booming Business."