How to Become An Extraordinary B2b Buyer or Seller of the New Generation?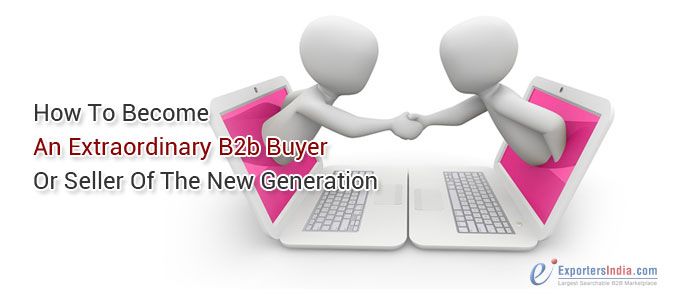 10,000 baby boomers are retiring each day (in the U.S) handling down the reins to the next generation. And the next generation needs to be equipped with some additional skills because of its changing and more complex role. The change in the role occurs as B2B is rushing towards "digital" from the "physical".
For getting a large number of leads, B2B buyers and sellers are coming up with new, advanced marketing strategies such as webinars, social media, trade shows and seminars. They have become proactive towards their complex and challenging roles, otherwise, they may ride out of the market with gaining no or very little profit. Below are mentioned the points which can prepare the new generation of B2B buyers and sellers.
Remain Active On Social Media
Social media platforms stand effective for the communication between B2B buyers and sellers. Among the C-level/vice president executives, 84% are reported to get benefits from social media while making purchase decisions. Many of the buyers use social media in support of their purchase decisions. In addition, these social platforms also help sellers to get them desiring customers through their profile or ads on social media.
Webinars, Trade Shows And Seminars
Webinars are a profitable source that can be used to educate buyers about your products or services. And the wonderful thing is they are "cost-effective". Webinars can also be used to seek partnership going beyond the geographical boundaries and also to earn a reputation. So are the benefits of trade shows and seminars.
Don't Underestimate The Technology
Don't underestimate the power of technology when it comes to B2B businesses. As you know that "physical" is continuously being transcended into "digital", it won't be a good choice to live within the boundary of physical one. Technology enables sellers to sell and buyers to buy online, and that's in an easy way.
Content Marketing For A Wide Network
A wide network increases the probability of getting more leads. So, be ready to break all the barriers of space and go wide-spread to earn the profit you've always desired to. Content marketing is one of a company's best marketing strategies. A good content draws buyers providing them the necessary information about the products to services.
Use Well What You Have
A lot of information is worthless without its use, likewise the resources of a business. No doubt that the business strategies are changing apace. It may take some time to get a hand on other modern resources, but in this race don't forget to make a smart use of what you have. Given that business up gradation plays a chief role, don't forget to upgrade your business, and using the available resources well can also help you in this.
Conclusion
The next generation of B2B buyers and sellers may have to struggle through their more complex and challenging roles. But don't worry as there lies plenty of ways which can support them to become from "ordinary" to "extraordinary" sellers or buyers.
Category Tags
1 thoughts on "How to Become An Extraordinary B2b Buyer or Seller of the New Generation?"