How to Boost Your B2B Business Through Online Network?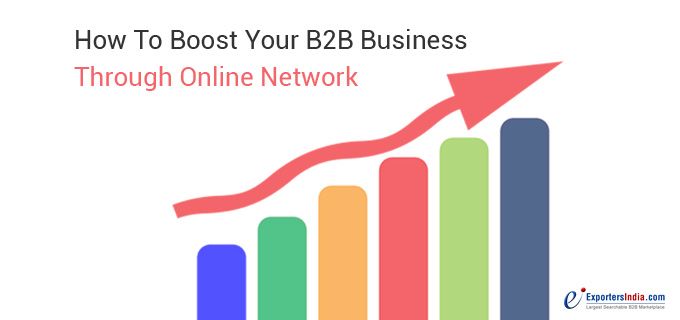 Up to a few years ago, B2B sellers and buyers made business deals mainly through physical interaction. But now the physical interaction has lost its value up to a large extent, just because of the overwhelming virtual interaction.
Most buyers are continuously heading towards the virtual space of B2B businesses, and that's because it is time-saving, easy-to-operate and really fast. Really gone are the days of the conventional methods, this is the era of the virtual space that brings forth huge opportunities for B2B buyers.
The present of your B2B business on the internet cannot guarantee a great number of leads, but your online-marketing strategies can do. Chances are, you feel much excited to know those strategies; if yes, we won't make you wait.
The Website: Your Prime Virtual Workplace
You may already know the importance of having a website for your B2B business, but are you aware about the flows which if it has can very adversely influence your business? Ensure that your website isn't surmounted with the burden of errors, broken links or poor navigation, but it should be designed such a way that the trading partners could rely on it. Don't forget to add Subscribe, Like and Comments features in your website. Your website is not only a bunch of web-pages on the internet but can also be your prime workplace without brick and mortar.
Content Marketing: Spread The Word
You may be confident about your product and can explain it well. But what if you fail to reach buyers? Think again.
90% B2B buyers speak that they'll get to you to buy when they're ready. Here arises a need to spread the word so that buyers can get to you through their search when they're ready to buy. Content marketing plays a very vital role in making your business known to buyers. Spread your blogs, infographics and videos, but remember that the content you're going to spread should be relevant and distributed properly.
Circulate Old Content: It's Still Worth Sharing
If you find out that some of your contents have become old and are neither in circulation nor visited by many; then, don't go on creating new ones. You can still use your old contents creatively.
Republish your blogs or articles

Pick up some old blog or article and create a video out of it to share on your website, YouTube and other platforms

Create infographics out of your old blog or article posts and share them

Take old contents and create slides by using relevant, eye-catching graphics

Change your old content into pdf files and spread them
Social Media: The Abode Of A Huge Human Traffic
The average time of a B2B sales lead is said to be longer to that of B2C. It may be because a B2B buyer goes through a wider research before buying as compared to a B2C buyer. B2B buyers also visit social media platforms as a research tool; and therefore, Social media can spread the visibility and awareness of your brand. Social media platforms are endowed with many features and are easy to use. You can share your blogs, articles, website link, videos and infographics on these platforms to derive benefits.
Paid Social Media Ads: Here We Are
If you're thinking of paid-ads to boost your business, don't forget to consider social media platforms. These platforms provide paid-ads feature at affordable prices. Paid-ads can circulate faster than non-paid ads, and thus can reach more people. Salesforce's 2015 State of Marketing report, states 70% of B2B marketers were intending to raise their spend on social media advertisements.
Conclusion
Get started to be seen and heard online for your B2B business. Online marketing is more competitive than the conventional selling strategies, but you can succeed in deriving benefits through cost-effective content marketing. Don't wait, have your business reach beyond the boundaries and draw higher sales leads.
Category Tags
1 thoughts on "How to Boost Your B2B Business Through Online Network?"
There are lots of ideas, theories and guesswork. We can focus on content marketing to get better success by relevant, targeted content, quality not frequency, natural and pure social media touch, integrating the content with the buyers journey & the most important is to work with sales team not against.