How To Find and Buy Antique Clocks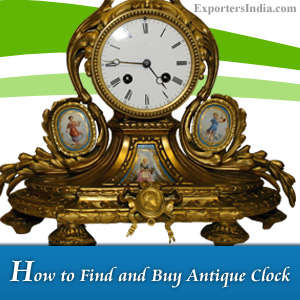 Antique items have always been a subject of fascination for art and craft lovers. Their rarity, beauty, elegance and above all their uniqueness is what captures the common imagination. Antique items may be collected as a hobby, for pompous interior decorations, to gratify one's emotional quests besides many other reasons. When talking about Antique items, how can one forget classic Antique Clocks that bear the testimony to the passing good and bad times? With the name, Antique Clock, the image that occupies the mind is a smoothly varnished wooden body with pendulum swinging gradually with the pace of time. Antique Clocks may date back to the British Colonial period but they retain their appeal that only multiplies with the time. No doubt, these Antique Clocks are priced so high in the markets. Perhaps this is the reason why you should be acquainted with certain useful information about How to Find and Buy Antique Clocks. There are a number of sources from where you can get information regarding Antique Clocks. These include General Antique Shops, auctions, classified advertisements, etc. It is always advisable to seek professional assistance in such cases. Historians can provide good guidance on the facts regarding the origin of Antique Clocks. When you set out to find Antique Clocks prepare a list of places that have rich historical associations and can be a source of antique tangible assets. This will certainly help.
Buying Antique Clocks in auctions is a better way. In the auctions there are better chances that you'll get authentic Antique Clocks. Besides, in the auctions the Antique Clocks are displayed and there is scope for a comprehensive analysis of the asset. Moreover, in the auctions you have listen to the valued remarks from knowledgeable persons which will definitely assist you in reaching a decision.
Antique Clocks personify beauty and elegance but it is a truth that they be very expensive. Thus, a thorough deliberation and research is necessary before buying them. You can resort to online means to collect relevant information about Antique Clocks. One thing that is sure is that you'll not be disappointed once you bag in an authentic Antique Clock.
Category Tags
1 thoughts on "How To Find and Buy Antique Clocks"