How To Generate Website Traffic And Reap The Returns?
Making a website is considered the sure shot way for a successful online presence by many people. But what lies behind this success is the number of net users who actually visit your website and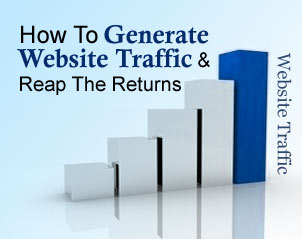 take interest in your company. Commonly discussed through the concept of 'Website Traffic Generation', this tactic is the ultimate step towards making your website become the number one on the World Wide Web. This is done by attracting the maximum number of people to view what you have to offer. But if you are a newbie on the block who has just got the website designed and hosted on the internet, then it may not be so easy to suddenly have many people visiting your website. Difficult as it may sound, but actually it takes some tips and tricks to get the desired results plus loads of patience. Want to know how? Read on.
Persistence is the key: There is nothing more harmful for a website than the presence of the same content for months. Not only does this bore the regular visitors of your website but also decreases the ranking on the search engines, and decreasing attention from the web viewers. Keep promoting on a regular basis and results will soon start showing.
Classifieds: The Mecca for Promotion Get registered with the topmost websites that display classified ads or get your site listed with leading directories. Most of the times, such services are totally free of cost, so there is an additional benefit of getting noticed by a wide audience that might be interested in what you have to offer.
Think Beyond Your Scope Promoting your business or corporate identity may well be a good marketing strategy but in the new era of marketing, it might come off as too desperate. Try to incorporate other elements by publishing articles and blogs that are related to your area of business or industry, while keeping these connected through back links to your website so that viewers can get to you.
SEO and SEM Search Engine Optimization may well be said to be the tried and tested technique for generating website traffic but along with that, marketing is also necessary to retain the ranking of your website in the search engines.
Meta Tags: The Way To Go Meta Tags are another way of enhancing your visibility amidst millions of sites and this is done by the use of keywords in the tags that describe your business. Not only does this help in increasing the popularity but also projects your website to the right kind of viewers.
Using a combination of all the above-mentioned methods can surely pave the path for the success of your website in the dynamic world of internet. What is required on your part is to do more research and use these techniques effectively. And last but not the least, do everything ethically in order to maintain the credibility of your website and make it a sensation on the World Wide Web.
Category Tags
8 thoughts on "How To Generate Website Traffic And Reap The Returns?"