How Waterproof And Shockproof Laptop Bags Protect Your Laptop?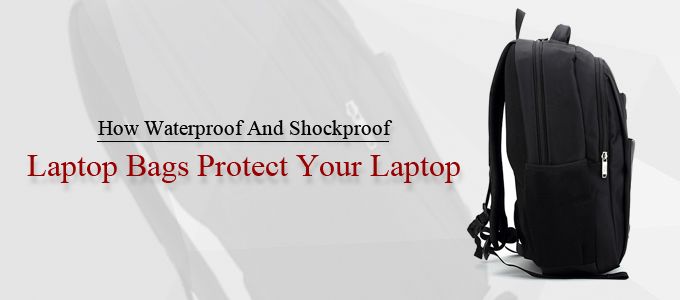 The journey of computers began in the early 90s. From the heavy computing systems to the handy mobile devices; the technology has brought a tremendous change, not just in the modes of computing, but also the devices involved. One of the biggest gifts that the technology handed mankind in the 21st century is a "Laptop". The major benefit that a laptop provides is the ease of carrying it anywhere you want, whether you are traveling on a bus or a train. As a laptop could be carried to places, the possibility of catching up with the damages also increases. To get rid of the outer damages a wide range shockproof and bulletproof bags are available in the market, let's have a quick glance on the benefits that they serve the users with.
Why You Need Laptop Bag?
You may have spent a whole lot of money in buying the best laptop in the market, but it doesn't make your laptop unbreakable. Therefore, taking measure to ensure its outer protection is a must. There are times when you move out with your laptop and it starts raining heavily, in such cases a waterproof laptop bags turn out to be of great help. Similarly, variegated shockproof laptop bags also emerge as a shield when it is about a laptop's protection.
Advantages Of Water Proof Laptop Cases
In order to protect your laptop from all kinds of weather changes, a waterproof laptop case is a must. Be it snow, rain, or heat, a waterproof laptop bag keeps your laptop safe from dust, moisture, and water. Before buying a waterproof laptop case, make sure that the case has internal as well as outer waterproof padding. A person who is a lot more conscious about the protection of his laptop should go for a waterproof laptop case.
Advantages Of Shock Proof Laptop Cases
If you are looking for a laptop case that protects your laptop from all kinds of shocks and scratches then shockproof laptop bag is the right choice for you. These bags are meant for the people that travel a lot, and have good quality internal foam padding of a sponge or any other soft material. Shockproof bags are really vital if you seek to protect your laptop from the damage caused by the mishandling of the device.
How About A Mix Of Both?
A mix is perhaps the best option to secure a laptop from the damage caused by the weather as well as rough handling. A bag that is both shockproof and waterproof would provide you total protection from all sorts of the outer damage.
That said! A good-quality laptop protection case is necessary for your laptop's protection and should be on your "to-buy" list if you haven't bought it yet. These days, manufacturers are using the most advanced techniques to create such bags. Choosing a laptop case that is enriched with both shockproof and waterproof qualities would help you to keep your laptop secure from all the potential external damages.
Category Tags