Import Export Trade Leads: Importance For Indian Businesses
Indian economy has seen a paradigm shift in the past decades as the focus has shifted from agricultural sector to Export-Import. Nowadays, there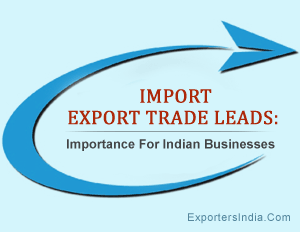 are many companies that are engaged in an exchange of varied goods ranging from heavy machinery, precious metals, agro-products, garments to electronic goods and so on. With new and improved business strategies being adopted by companies for surviving amidst cut-throat competition, the use of online trade leads directories is increasing day by day.
Evolution Of Trade Leads Into The New-Age Business Tool Trade leads are basically directories where buy and sell leads are posted to interact with other companies in the same business. Trade Leads have benefitted all types of businesses, especially Importers and Exporters who can now reach out to other companies in any part of the world but at a fraction of the cost. The enterprises to benefit the most are the SMEs.
Worldwide Exposure Earlier, Importers and Exporters had to rely on their own business contacts, engage in extensive marketing and depend heavily on referrals to gain more business. But now, trade leads directories present an easy solution for all this at one platform.
Industry Specific Trade leads directories are highly classified, where you can see a distinct categorization in terms of industry, products, country and so on. It cuts the time spent in looking for relevant buy or sell leads and you can get in touch with the right buyer and seller very quickly.
Rise Of The Small Companies Many Indian entrepreneurs have benefitted from such leads as they can now gauge the demand for a certain product and accordingly source it from a country. For a developing nation like India, it is very beneficial as the process is very economical and saves resources spent in marketing a product all over the world for which there is limited demand. In fact, many import and export companies have been started or attained a leading position with this support for e.g. Cottage industries, Handicraft sector, SSI's etc. Gaining global exposure was never so easy!
Changes In Liberalization Policies With increased trade through such mediums, the governmental regulations have also been relaxed to allow for more growth, paving the way for more economic development through Indian Import/Export companies.
To conclude, one can say that Import Export Trade Leads have brought a major change in Indian businesses in more ways than one. The country has gained global recognition due to this despite tough market conditions and this platform is set to favor Indian economy even in the times to come.
Category Tags
1 thoughts on "Import Export Trade Leads: Importance For Indian Businesses"