Increase Business By Using Internet Marketing Tools.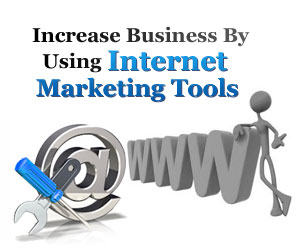 Internet is the hub of all activities, be it personal, official or business related. It has especially impacted businesses to a large extent. All businessmen prefer to market their businesses and products online as they are sure of gaining customers faster this way. Many businesses are now using Internet Marketing Tools to promote their businesses online. These tools are highly effective in generating revenue for your business. Let us discuss the different internet marketing tools.
Email Marketing - Email is a very essential tool of internet marketing. It includes sending direct mails to email addresses of a variety of people, most commonly the target customers.
Blogs - Blogs are the most popular and commonly used internet marketing tool. People from all walks of life read and even write blogs. There are blogs online on various different topics like medicine, engineering, arts, and even industries and businesses. You can promote your products using blogs as they are widely browsed and read by internet users.
Articles - There are various business articles published regularly on the internet. Different articles are sometimes dedicated to different groups of businesses, which help in their promotion. These articles can be used as effective Internet Marketing Tools.
Banner Ads - Banner ads appear on a website, usually promoting some business or product, which is unrelated to the content of the website. These banner ads either appear at the top or bottom of the webpage. They are usually catchy and can be used as an effective Internet Marketing Tool.
Pop-Up Windows - Pop-Up windows, though highly irritating, are nevertheless very effective. They have the special feature of catching the attention of an internet user and create immediate impact. These pop-ups are usually in attractive and clashing colors to catch the attention of the internet users.
Even if you choose any of the above mentioned internet tools, you are not going to benefit from them if you do not employ the correct one for your business. The success of your business and website depends entirely on the internet marketing tool you have chosen. Do a complete market research before employing a marketing tool as it pays to know about different packages, which are being offered by different service providers.
Category Tags
4 thoughts on "Increase Business By Using Internet Marketing Tools."