Increase Business Opportunities With Free Classifieds.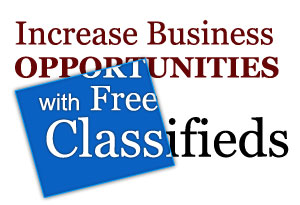 Ever heard of the phrase, "There's no such thing as free lunch"? Well, think again. The new concept of Free Online classifieds is gaining immense popularity. Businesses always consider the advertisement of their products and services very burdensome because of the financial angle attached to it. Businesses mostly use local dailies, magazines, commercials on TV, radio and the worldwide web. As the Internet has emerged as the most popular and important technology, online advertising has become a trend today. Companies advertise their products online, which cost a lot of money depending on the type of product or service being advertised. Now the latest trend is Free Online classifieds, which can help companies advertise their products and services for free. Let us then take you through the various advantages and disadvantages of Free Online Classifieds.
Advantages:
Economical: - The most important advantage is that these free online classifieds have the potential to deliver your message or advertisement to potential customers loud and clear.
Wide Reach: - As internet is used extensively worldwide; it has a very wide reach, which is beneficial for a business as one single message can traverse boundaries and reach people across the world.
Quantity: - One business can publish as many advertisements as they can on as many websites as desired. It is highly beneficial for any business. Sometimes the same advertisement cannot be posted twice but there are always compensations for that.
High Optimization of Classifieds: - Most of the classifieds are highly optimized and easily show up on search engines provided there are major key words and key phrases included.
Choice of Advertisement Placement: - The businesses can place their advertisements on a particular demographic region or can place them at a location or website, which is universal.
After the major advantages, there are certain disadvantages as well:
Expiry: - Most of the free classified advertisements have very short lives. They can disappear in a week or stay as long as for 45 days also. Their availability is not consistent.
Product Information: - The information about a product and service on these free online classifieds is sometimes not complete, which can lead to misleading perceptions about that particular product or service.
Keeping the above advantages and disadvantages of Free Classifieds in mind, businesses can decide their preferred channel or means of advertising.
Category Tags
2 thoughts on "Increase Business Opportunities With Free Classifieds."
Such an impressive answer! You have beaten us all with that!

great information shared ... thanks