Increasing Lead Generation: 8 Crucial Steps.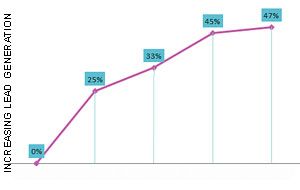 Lead generation, according to Wikipedia Online Encyclopedia, is defined as, "A marketing term that refers to the creation or generation of prospective consumer interest or inquiry into a business' products or services." Lead generation is generated through search engines. Lead is basically generated for list building and winning customers. There are several factors which will decide how much lead you can generate for your company. The major 8 would be discussed here in this write up:
Don't Sell. Help Them Buy: - The most important factor to be kept in mind would be to help someone buy a product or service instead of selling it. Lead generation should be a sequence of dialogues and conversations rather than campaigns. You should not force your product or service upon someone. Tell them the benefits and help them decide whether they really want to buy the product or not. Be a reliable advisor rather than merely a sales person.

Collaboration of Sales and Marketing Teams: - Many conflicts arise in a business or company due to differences in the policies of the marketing and the sales team. Both the teams should have internal co-operation among themselves and they should both craft their policies keeping in mind the needs of the customers rather than their own personal or individual needs.

Develop Customer Profile: - Every customer is different and you should make sure that your marketing and selling techniques appeal to all the customers. Thoroughly acquaint yourself with the current and potential customers to know their needs and expectations better. Separate the good customers from the bad ones. Ask them their feedback and recommendations and always be at their service to assist them.

Universal Lead Definition: - The lead definition should be simple but universal. It should appeal to different types of customers. Combine the leads with the ideal customer profile and you will get a much desired consistency.

Marketing Database: - Maintain your marketing database effectively and efficiently. The quality of your database can influence your lead generation. It is important to keep abundant information about a prospect in a single place so as to make it accessible to everyone.

Lead Generation Approach: - The lead generation approach should not be a single one. Maintain a portfolio of different channels, which can be used in lead generation.

Management Of Lead Generation: - There should be an effective management of lead generation, which will help direct and convert sales leads into customers. Proper management can be undertaken by identifying opportunities, tracking, measuring and reporting leads, measuring sales performance, dealing with inquiries centrally and defining devices for feedback.

Lead Nurturing: - Nurture your leads by undertaking a lead generation process, employing methods to motivate sales people, help in positioning sales people and capture future opportunities.
Keeping the above mentioned points in mind will help you generate faster and effective leads that will prove as the most important factor for the success of the business.
Category Tags
2 thoughts on "Increasing Lead Generation: 8 Crucial Steps."
I am feeling it... thanks for sharing this link....

Great information about sales leads. Generating sales leads is not easy task for marketing team. Generating quality sales leads or managing in-house database is difficult for companies and few marketing companies help these companies to generate leads or manage their list. Always having quality data needs lot efforts and resource this makes companies to buy sales leads from marketing companies.