Information Given In a Commercial Invoice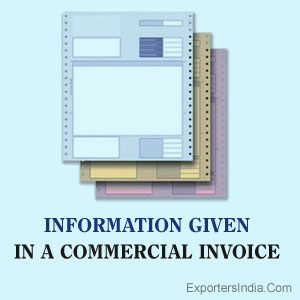 Commercial Invoice is the bill or the document used in trading and exporting of items to the international marketplace. The Commercial Invoice consists of information regarding the deal and the final sale between the buyer and the seller. The Commercial Invoice is made as per the contract mentioned in the Performa Invoice. If in the Performa Invoice, the buyer and the seller commit to the preparation of Commercial Invoice, then it has to be prepared. With the change in the sale terms, change has to be incorporated in the Commercial Invoice. The details to be included in Commercial Invoice are:
Customer purchase order number

Performa invoice reference number

Method of Payment: The currency in which payment has been made needs to be mentioned, and the shipping terms for the price quotations

Bill of loading number

Container number, if shipped by container

Ports of exit and entry

Country of origin notation: Here the country of origin certificate and the harmonized tariff codes are to be incorporated
Along with this information, the Commercial Invoice must conform to the Letter of Credit issued by the buyers. The Commercial Invoice has to be made keeping in mind the following considerations:
Specific language requirements: Sometimes the importer wants the Invoice to be translated in the importer's language

Declaration from the exporter: The exporter sometimes needs to ensure that the goods exported are manufactured in the exporting company, and the goods conform to the amount mentioned in the Invoice.

Certification of commercial invoice: In some countries, the importers demand the Invoice to be certified by the Chamber of Commerce of the exporting company. This is to assure that the information and declaration mentioned in the Commercial Invoice is correct.

The amount mentioned in the Commercial Invoice should not exceed the one mentioned in the Letter of Credit.

The amount written in the Commercial Invoice must not vary beyond 5 percent of the quantity mentioned in the Letter of Credit.

Commercial Invoice should have the description of goods in accordance with the one mentioned in the Letter of Credit.

Some countries require signature on the Commercial Invoice, along with the name and the title of the exporter company.
In order to ensure smooth trade relationships, the exporters need to include all the above mentioned details, and some of the details, if asked by the buyers. If the Commercial Invoice is made with perfection, then the clearance of exported items becomes a hassle-free activity.
Category Tags
2 thoughts on "Information Given In a Commercial Invoice"
I would love to take your workshop, please let me know if I could be on the wait list

This is fabulous blogs.thanks for share this.