International Trade Gets Eco-friendly Through B2B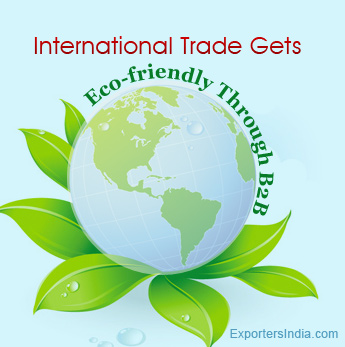 In the present era, the concerns for environment have increased tremendously. Due to global warming and rise in earth's temperature, the business firms also need to do their bit for environment as part of their social responsibility. B2B has emerged as the most effective business tool in this regard. B2B is not only a fast and cost effective medium for International Trade but also an environment friendly one.
An Alternative to Hectic Trade Shows Since their inception in the 90s, B2B Portals have emerged as effective platforms for traders across the globe to sell their products and services across the globe. B2B portals effectively serve as an alternative platform for trade shows with the added advantage of reducing unnecessary expenditure on movement of people and commodities. This also helps in reducing the cost of marketing and saves a lot of resources.
Lesser Travelling B2B portals have helped a great deal to reduce the cost of travelling as international traders can interact with each other online. A more innovative option is Video Conferencing, which does not require people to go from one place to another thus saving fuel which is good for the environment. Therefore, the carbon print is greatly reduced.
Pollution-free Communication! Since B2B Portal trade is carried on through computers, it does not cause wastage of paper thus saving a lot of trees. The complete business process is electronic, so it does not cause any sort of pollution. Some of the B2B portals provide even international services including transport, go-between and other services, besides the regular, import and export services.
Trade through a B2B Portal does not require physical presence at any stage of the trade thus saving a lot of time and money. We can say that these portals have emerged as very competent and eco- friendly platform for those engaging in trade in the international arena. If more companies rely on this medium, then we can surely hope for a greener future.
Category Tags
1 thoughts on "International Trade Gets Eco-friendly Through B2B"