Looking for Summer Friendly Fabrics, Consider These Five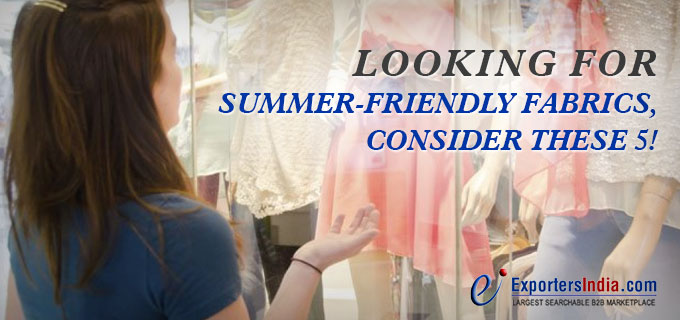 Summers are here and Sun with all its might is ready to tan, sweat and dehydrate you. To trim down the discomfort caused by scorching sun and hot waves you need a lot of cool products including a soothing range of dresses for summers. While summer gives you ample scope to experiment with stylish dresses and be fashionable, at the same time it restricts you to go for only soothing and skin-friendly fabrics, which can keep you cool, protect your skin, and prevent excessive sweating. Here are perfect picks to make your wardrobe summer-ready.
Cotton: Love Of Every Season But King of Summer
With its soft touch and breathable material, cotton fabric clothes have always managed to win all hearts. This breezy fabric has natural fibers which allow air to circulate and move freely through the fabric to keep your body cool even in the scorching summer heat. This widely-used fabric absorbs all the sweat and moisture to prevent bacteria from growing or spreading on the skin.
Linen: Class and Comfort all Daylong
Linen is one of the lightest fabrics in the market and is a great option to beat the heat during summer. Made from the fibers of flax plant, this fabric has high water-absorbing properties that help in absorbing the excess body sweat. It is a natural fabric with a light weave that allows breathability. While buying linen fabric, the best one is the tightly woven linen fabric as it is easy to control wrinkles in this fabric.
Silk: Elegance and Comfort Beyond Season
Many people have the misconception that silk is only for winters. However, silk blend, a light and soft version of silk, is one of the best materials you could wear in summer. It is a natural fiber that does not stick to the body or make you sweat in the summer heat. Instead, it allows for easy circulation of air through its fibers which keeps you cool even in the sun. Additionally, the elegance and comfort of wearing silk in its blended form with minimal jewelry are beyond any comparison.
Khadi: The Ultra-Cool Fabric for Summer
Khadi has always been the love of summers. The ultra-cool khadi fabric is India's pride and can be stylishly worn as khadi pants, khadi kurtas, skirts or even shirts to stay fashionable during the summer heat. This handspun, natural fabric is super comfortable and ultra-cool in the scorching heat. Made from natural fibers and woven with hand, it is a skin-friendly and organic summer fabric that is ideal for the Indian weather conditions, especially during summers. To top that, there are no chemicals used in the making of khadi fabric which makes it even better during the sweaty months.
Chambray: The Soothe of Summers and Style of Denim
For those who love wearing denim but have to give up on them during summer, chambray is like a godsend. It is a lighter and softer alternative to denim that is breathable and allows air to flow easily. Whether it is a dress, shirt, trousers, shirt dress or any other outfit, chambray can help you look cool and stay cooler during summer with its denim look.
With global warming conditions worsening, summer heat is breaking all previous records. But don't let this summer heat affect the stylish diva that you are. Stay fashionable and stylish with the wide range of apparels made from the summer-friendly fabrics discussed above. These fabrics are not just light and breathable but also have water-absorbing properties that enable them to keep your body cool during the hot summer months. So, why wait? Try out the latest summer-ready trends for the year in light pastel colors made from these summer-friendly fabrics to look stylish while staying cool in summer.
Category Tags