Nine Reasons Why B2B Marketing Should Own the Teleprospecting Function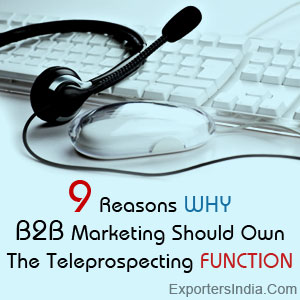 Teleprospecting should serve as a bridge between sales and marketing. In any case, one department has to own the function and marketing seems to have the upper thrust. There are some valid points as to why teleprospecting should belong to marketing, listed in order of increasing importance.
1. Contribution of large returns: With the right teleprospecting approach, more inquiries will convert to sales-accepted leads. They can provide follow-up and network to identify the appropriate buying influence, cross-pollinate one interest to another, and execute numerous other tactics that result in a bigger revenue contribution from upstream marketing campaigns.
2. Profits perk up: Teleprospecting can improve upstream demand generation yields.
3. Demand generation: Teleprospecting overlaps with demand generation. Teleprospecting representatives are generating demand when they discuss how solutions solve problems and/or share a value proposition.
4. Good quality lead generation: Integrating teleprospecting into other forms of outbound marketing can improve its efficiency. Set up experiments to optimize the contact, messaging and information-exchange strategy. This lead-optimization experimentation is a requisite for marketing.
5. Lead qualification: Marketing personnel would have to see for themselves just how qualified their leads really are. But at some point, after making changes, they'll see that lots of marketing leads really aren't qualified or even responsive. This is a point which all marketers should consider once.
6. Customer-centric messaging: Marketing department has the best skill set to develop the right kind of customer-centric marketing messaging which focus entirely on the needs of the customers.
7. Conversion of teleprospecting: A perfectly good teleprospecting function can be converted into a purely inside-sales play when the next sales leader is hired.
8. Teleprospecting benefits: When executed properly, teleprospecting bring in significant returns and hence increase marketing revenue's contribution.
9. New funding avenues: Because teleprospecting will increase revenue contribution from marketing, new levels of funding will open up and give more power to the CMO. To sum up, teleprospecting can bring about a world of benefits to whichever department it belongs to. These are the reasons why the CMOs want Teleprospecting to be shifted into marketing.
Category Tags
1 thoughts on "Nine Reasons Why B2B Marketing Should Own the Teleprospecting Function"