Pick The Right Patio Umbrella Heres How?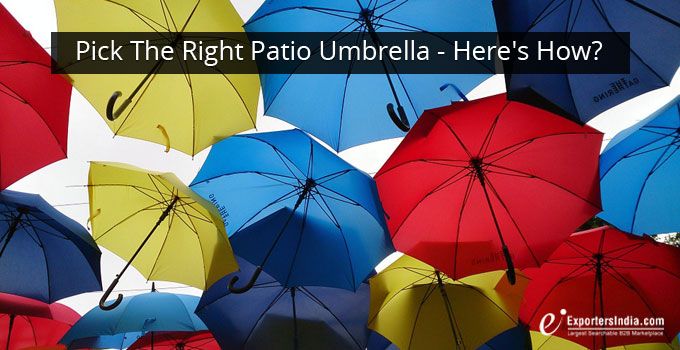 And, here comes the summers…
That very time when many of you out there would like to be outdoors and enjoy that sunshine and that warmth of the weather to the fullest. That relaxation, that pleasure of having meal outdoor with family, but still no one wants the sun to beat down on them. Fret not and simply opt for the right umbrella to offer the required shade on the patio. Patio umbrellas not only will offer you that desired shade but will also enhance the overall appearance of your courtyard.
All you have to do is that you need to choose the right one as per your choice that will complement the overall look of space as well. This article aims to help you all for how to choose the right patio umbrella for the patio. Let's start!
Patio Umbrella Types:
1) Octagonal Umbrellas
If you are looking a patio umbrella for a table of 30" in diameter, 6' patio umbrella will be the right choice, which will be perfect for at a bar height table for 4-5 people. Else, for 30-36" diameter bistro table having 2-4 seats, 7' patio umbrella will work. 8' patio umbrella will be a wise choice for a dining table for over 48" diameter having a seating arrangement for 4.
2) Square and Rectangular Umbrellas
Where square umbrellas are an ideal choice for square tables, rectangular umbrellas are ideal for rectangular as well as oval tables. If in case you are not sure of what size of the umbrella to be purchased, simply add roughly 2' to each side of the table in order to find out the suitable size of umbrella that will offer perfect shade to the area.
3) Off-Set or Cantilevered Umbrellas
Without any hurdle, off-set or cantilevered umbrellas shower a lot of shade. It's an apt choice if there is no umbrella hole on your dining table or if there is a deep seating area that you want to renovate. Moreover, cantilevered umbrellas are the best way to a polished as well as a protected outdoor room.
Patio Umbrella Frames:
1) Aluminum Umbrella Frames
Aluminum Umbrella Frames are one of the common materials used to fabricate the poles of the umbrellas. It's not only lightweight, enduring or pocket-friendly but has a striking appeal. In addition to all this, Aluminum Umbrella Frames are corrosion resistant and can manage all weather types.
2) Wooden Umbrella Frames
Sophisticated in appearance, Wooden Umbrella Frames are probably the most expensive ones available. The wooden umbrella frames are flawlessly treated so as to handle the weather outdoors. Not just that, the wooden umbrella frames can be easily opened and tilted manually.
3) Fiberglass Umbrella Frames
The most durable patio umbrellas are the ones having fiberglass frames and poles. Fiberglass Umbrella Frames are lightweight, flexible and are resistant to weather as well as the wind. These kinds of umbrellas may bend in case of heavy winds because of its flexibility, but don't break. Plus, frames made up of fiberglass are non-corrosive and so will last longer.
All-in-all, it depends upon your taste and the space where you have to place the umbrella. Whilst choosing for the patio umbrella not focus only on the color and the appeal, do keep in mind the main aim of providing shade to space. I hope this article has helped you and has made the buying process a lot easier before heading to a store.
Category Tags
1 thoughts on "Pick The Right Patio Umbrella Heres How?"