Point Of Sale System: A Boon For Retailers.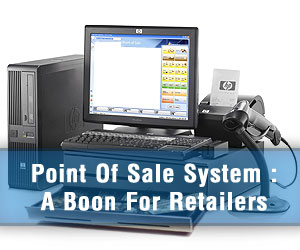 Have you ever felt burdened with your cash transactions or you are not able to keep track of your cash transactions? Have you been worried about how well your clerks are providing customer services? Generally many businesses fail due to these problems, which actually have simple solution. The solution comes in the form of Point of Sale System, a software system with the most dynamic technology. Point of Sale System is basically an electronic system that processes transactions for merchandise and services. You can program the system according to your specifications like the relevant data about products and services and also various customer service options. This helps you manage business effectively and helps you to meet the needs of the market. The degree of success by using this system is increased tenfold. The most important components of a Point Of Sale System are:
The actual transactions are done by cash registers, which are electronically connected to a computer.

Software programs that take the data sent to them by the electronic cash registers.

The physical space where these systems are installed and where these transactions take place.

The trained cashiers who operate the computer enabled machines and carry out the actual cash transactions and give the receipts of payment.
With the advent of Point of Sale Systems, the burden of numerous cash transactions has decreased considerably. Though the Point of Sale System is costly, the cost for buying them is procured within a year or two.
Major Benefits Of Point Of Sale Systems Are:
Point of Sale Systems helps in tracking and managing of inventory. As it records the data daily, it can accurately keep track of all the sales made in a day, a week, a month or year and so on.

The Point of Sale Systems can be helpful in tracking promotions. If a product is promoted, then the amount of that product sold determines the success of the promotion.

It completely eliminates the use of paperwork and makes the entire process computerized thereby making the process more accurate.

Point of Sale Systems includes bar code scanners, which makes determining the price of a product easier and accurate as compared to entering the bar code manually.

Reduces sale discrepancies as the product price is accurately determined and it provides improved customer service.

The point of Sales System can determine accurately, which products are sold more or which products are sold less so as to boost the promotion of the lesser sold products.
The Point of Sale System has come a long way from being available in a few selected stores to being the mainstay of every department store, supermarket, malls or shopping complexes. So, incorporate it in your business and see the difference.
Category Tags
2 thoughts on "Point Of Sale System: A Boon For Retailers."
This is really great post. Keep posting i like your post.

Keep posting stuff like this, I Really like it.