Power Of Live Chats In Business Marketing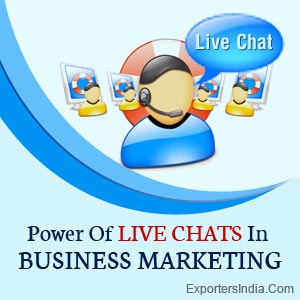 When you purchase products for your business use, you want to get the maximum out of them to ensure best returns on the money invested. To cater to the same requirement, many companies, at present, are offering a feature which allows business owners to do live online chats.
But the question is where do these Live Chats genuinely find their application?
Well, Live Chat is a phenomenal feature for Business Communication Tool. How? Well, simply by saving your both time and money, during a busy day of work. Online live chats are the ongoing trend in the world of Business Marketing that greatly helps the buyers and the purchasers. The following is a list of benefits of using Live Chats:
Query Solution:
Live online chats connect you to an agent, in whatever department you need assistance with, and allow you to tell them the problems you are having, and have them walk you through a solution.
Troubleshooting:
The option of live online chats allows you to troubleshoot any errors. On encountering a functional problem, it quickly helps you in developing a better understanding about how the products that has malfunctioned can get back to work.
Anytime Assistance:
24x7 Online Live Chats helps you to get prompt answers from experts when things go wrong with products or regarding other business assistance.
Smooth Operation:
Live online chats eliminate the need of sitting on the phone all day and waiting to talk to a live person, rather than an answering system. It unfailingly offers a clear solution to the problem right away.
Live Chat feature allows you to continue operations, and if something does go wrong, allows you to get back up and run the same system in a quicker and time saving manner than ever before. It, above all, is a fantastic Business Communication Tool which effectively assists you and solves all your queries during any time of the day.
Free Business Classified Directory
Category Tags
8 thoughts on "Power Of Live Chats In Business Marketing"