Promoting Your Business To Other Businesses: Some Effective Strategies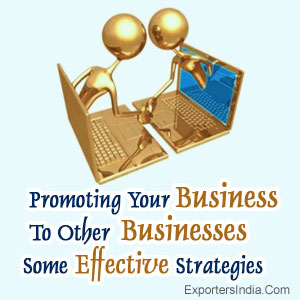 Even a layman will be able to tell you why business promotion is essential today. While most companies cater to the needs of end-users, there are many B2B companies too, which offers products & services which are targeted at other businesses. This write-up deals with some effective promotion strategies that can prove helpful to such B2B companies.
Some Effective Strategies To Promoting Your Business To Other Businesses
One foolproof way of promoting your business to other businesses is to advertise in business magazines. This way you can access the right target group who will be interested in your products/services. There are several choices available as far as print ad promotion is concerned, you can choose to advertise in an industry specific magazine, or just a local business magazine.

Another very effective strategy that you can utilize is to send promotional packages to businesses whom you are interested in dealing with. The businesses targeted in such a case should be those that may have a need for your products or services. It is best to offer something tangible that will create an interest in the decision-maker (of the other business) about you & your business.

In this age, where social media rules, popular social networking sites like - Facebook can be utilized for effectively promoting your business to other businesses. For this, you can join a business group on Facebook (or form one & invite local businesses to join). This way you can share the latest news, updates, event information, etc.

Another strategy which is recommended for all business owners interested in brand promotion is to attend events organized by the local chamber of commerce. This way you can meet up with the other business heads & personally hand out your business cards.

Networking is a crucial part of business promotion. It is a very effective way to get in touch with prospective clients. There are several networking strategies that can be adopted, e.g. joining a board of directors is a great way to establish contacts with other business heads, or you can become a member of professional groups that attract the people whom you are targeting.
These tried and tested strategies are an effective and foolproof way of promoting your business to other businesses.
Category Tags