Quality Printing Will Give Your Business a Touch of Class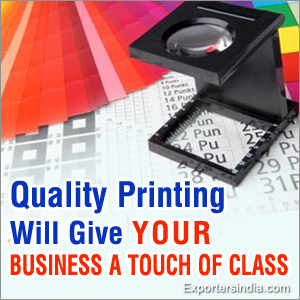 Whether it is in the form of posters, visiting cards, banners, flyers or brochures, a well-planned and properly executed publicity not only adds to the organization's sense of purpose but also creates community awareness. In today's competitive scenario, each organization wants to create a good impact on its clients as well as its members. Imagine yourself organizing the best marketing campaign for your business and finding out that the campaign in print is poor, smudged and unattractive; it gives a bout of jitters, right? Good quality printing, therefore, plays an important role as it gives a touch of class and standard to the business. So, by paying attention to the following points, you can surely enhance the quality of your printed business material:
Color & Clarity: The colors and clarity of the marketing campaign papers and brochures certainly play a crucial role in attracting the interest of clients. Bright colors and sharp images rather than dull shades and distorted images generally catch people's eyes faster. So, choose the printers and cartridges that give you the best results, the same that you see on your computer screens.
Printing Materials: A Good quality printing not only depends upon the use of the best printers and inks, but is also subjective to the material on which everything is printed. A poor quality paper or sheet may also ruin the printing, even if done with the best printer in the world. Therefore, select the finest quality printable material that offers sharp, smudge free, undistorted and spotless prints.
Multifaceted Yet Cost Effective Printing: Though high quality printing is extremely important for any organization, yet spending tons of money on it is not a wise decision. It is always better to buy multifunctional printers that can print anything from a small business card and brochure to caps and t-shirts. Also, there are many vendors who offer discounted printing offers on bulk orders. Try out something like that for a budget-controlled business promotion.
Thus, by keeping in mind the above mentioned points, a good promotion of the organization's activities with high quality printing can be done for the success of any business.
Category Tags