Role of Custom Brokers in Your Import/Export Business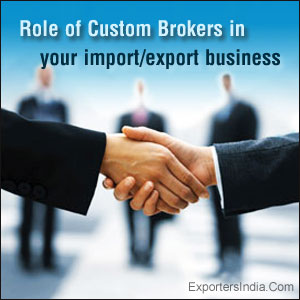 When you are dealing in the business of import and export, you certainly have to make sure that the goods that you are importing overseas do not fail to conform to all the terms and conditions of international transportation of supplies.
Your Role
It is mandatory for you to fill many forms, in due course, that validate the required certifications including sanitary certificate, permits, etc.
Why Customs Broker?
You cannot handle all these formalities completely on your own. So here the role of a professional customs broker comes into play. And to ease yourself from all these burdens, you surely need to take help of customs brokers who is much more thorough than you with all the rules and regulations of EXIM.
Customs Broker- Your Personal Lawyer
Customs Broker is a professional who acts on your behalf in front of customs officials. Not just this, he will even guide you towards the most cost efficient and time saving solutions to get through all the formal processes. A customs broker:
Knows about the tariff schedules and customs regulations

Is in touch with the latest amendments in any export-import rule

Helps out in clearing of goods and other logistics work

Estimates costs of duties, taxes etc.

Knows how to manage any problem in cargo handling
Safe Merchandizing By Availing Plane, Ship, Or Truck
Depending on your transportation needs, a customs brokerage company will help you deal properly with your import and/or export needs, whether the goods are being transported by air, by ocean freight or truck freight.
Truck Freight services
Preparing solid insurance
Valid certificate making process
Air Freight services
Preparing cargo insurance
Assistance you need at the destination
Documentation assistance
Ocean Freight services
Helps you to choose the insurance type that you need
Helps you with Full Container Load vs. Less than Container Load
There are many official forms that need to pass validation, which you possibly cannot deal by your own. Customs brokers will assist you from the point your stock arrives on a territory, clearing it through the customs, assisting you with all the necessary paperwork, until you officially and legally get an allowance to bring your respective merchandise on a foreign ground.
Category Tags
4 thoughts on "Role of Custom Brokers in Your Import/Export Business"