Role of Video Marketing To Build Your B2B Business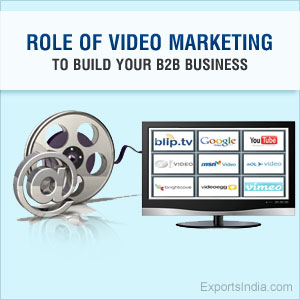 Video marketing is a potent tool for online promotion of products and B2B companies. There are host of websites, forums and B2B portals that allow the users to post their product videos. These websites also facilitate B2B companies with the option to create a link to their own websites. Thus you can use video marketing to direct visitors and B2B buyers to your website and expand your B2B clients. Video Marketing can really boost your B2B Business provided you know the tricks of the trade. How and what role does Video Marketing plays can be abstracted as follows:
Video Marketing Endorses Your Content Development Strategy
When you create a video, there is ample deliberation pertaining to the visual content, the target audience, the message, the theme, etc. Thus, in a way Video Marketing serves as an endorsement of the basic theme and concept behind your product or your services.
Share Video On Video Sharing Sites
The advantage of Video Marketing is that you have various platforms to showcase your video content. There are a number of video sharing websites that allows you to post product and service promotion videos. Besides, you can also post your video on your website. Thus video marketing is a source of tremendous exposure for your B2B Business. You can swap your videos with other sites ending with more visits to your video and eventually website.
Video Marketing & Your Product
You can raise the tally of your email marketing list by simultaneous marketing of video and your product. You can post a link to your products or website along with the video and see the result. The role of Video Marketing is increasing in B2B Business and you must be aware of strategies and techniques to stay in the fray. The videos should be tagged with suitable keywords for Search Engine Optimization. This is the best way to draw maximum traffic and attention to your B2B Business. Remember, Videos describe and demonstrate simultaneously, they can be shared virally, take no time in delivering the message, create awareness, hence Video Marketing is one of the most effective alternatives of conventional advertising.
Category Tags
4 thoughts on "Role of Video Marketing To Build Your B2B Business"