Some Tips For Sales Lead Generation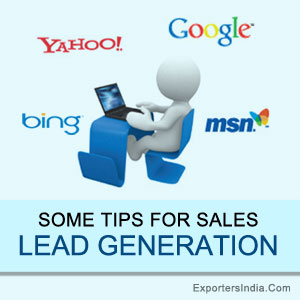 Every organization exists for two reasons-client satisfaction and profit creation. Profits are maximized when sales leads are generated. Sales lead is basically the identification of an individual or entity, which has an authority and interest to purchase a product or a service. This is the first step in the sales generation process. There are some other tips which you can use for sales lead generation.
Build Relationships:You would want to strike up a rapport with sales representatives from different companies, if you are selling B2B who call on the same businesses as you do. You can share leads and information about customers and prospects with each other.
Cold Calling:It is a term used when you call up a prospective customer/client when they are least expecting it. It is very much disliked as it can lead to embarrassing situations but is quite effective for sales lead generation when executed properly.
Live Seminars:These are a great sales lead generation technique because you are usually delivering your pitch to a prospect very early in the buying process. The key to a successful seminar is offering a solution to a problem that your target market really wants to solve.
Trade Shows:A good way to generate sales leads is if you can find events highly targeted to your prospect audience. Often such events yield low-quality sales leads because they are attended by the recommenders and influencers, rather than the true decision-makers.
Mass Mailings:Sales letters are one of the more underused sales lead generation methods. There is an entire industry of people dedicated to selling in this way, called direct marketing. Success with this method comes as a result of mailing a well-written letter to a good quality (as regards the target audience) list of names.
Advertising:This method can be highly effective when executed properly. You must run ads that stimulate people to take action. To generate sales leads, you must avoid big-company style image ads. Advertising can also be done on the Internet which is very appropriate for small businesses and independent professionals. With a well-designed website, you can generate sales leads through "ads" that the search engines create from your web pages. If you know what keywords your prospects are likely to search you with, then you can generate very targeted and qualified leads.
Email Publications: A sales representative or business owner could create an email newsletter and mail it to sign-ups from an offer presented at a seminar, at a trade show, in a mass mailing, in an advertisement or on a cold call. As a sales rep or business owner, you could send out industry news and tips to your market prospects.
Eventually a few of them will become customers because you are on their mind more often than your competition.All said and done, these are just some of the ways for effective sales lead generation that can eventually lead to creation of huge sales
Category Tags
18 thoughts on "Some Tips For Sales Lead Generation"