Successful Marketing Strategies For B2B Companies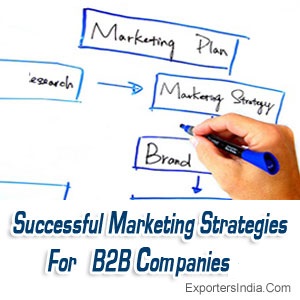 There is no doubt about the fact that e-commerce has proved to be a boon for B2B companies as it not only helps in widening the customer base and increasing sales, but also helps in cutting down costs. A well designed e-commerce website is a necessity if one plans to conduct online trade successfully. There are some points which need to be addressed in order to ensure that the B2B company turns out to be as successful as it was meant to be.
Marketing Strategy 1# Get A Good Website Designed By Web Design Professionals
A Good Website will not only promote the online business in the best manner, but the design will ensure that potential buyers have a good browsing experience. There is equal focus on functionality and visual appeal.
Marketing Strategy 2# Update The B2B Website On A Regular Basis
Once a B2B website is up and running, the work of the business owner is not over even then. For the B2B website to keep on garnering positive results, it has to be updated & revised on a regular basis. To keep pace with the latest developments, it has to be flexible enough to accommodate new functionalities, upgrades, features, etc.
Marketing Strategy 3# Ensure That Proper Budget is allocated for B2B Website Maintenance
As mentioned above, getting a B2B website live is not enough, regular maintenance is important to ensure relevancy. The business owner needs to keep aside a portion of the budget for proper maintenance of the B2B website. From adding new products, to showcasing new deals & promotions, to adding new functionalities, to upgradation - all fall under the purview of B2B Website Maintenance.
Marketing Strategy 4# Make Sure That B2B Website Is Not Treated As The Only Avenue
Many B2B companies have made the mistake of solely focusing on their B2B websites and suffered because of the same. It is important to pay an equal amount of attention to other marketing channels like telemarketing, networking, referrals, etc. Implementing the above mentioned marketing strategies will ensure that a B2B company manages to not only remain competitive but also earns handsome revenue in the process.
Category Tags
16 thoughts on "Successful Marketing Strategies For B2B Companies"