The 12 Most Common Lead Generation Webinar Marketing Mistakes
The lead generation webinars organized by the companies provides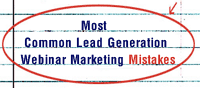 beneficial results to your business. This statement is true and no question can be raised about it. Bit, still there are some drawbacks in the marketing strategies because of which, businesses are not able to make most out of lead generation webinars. Hundreds of advanced strategies have been introduced that can boost the response, depreciate the lead cost and even increase the quality of the leads. But before you enter it make sure the foundation of your webinar is in right place.
Even though, you have done lot of research work and invested large amount of money in organizing a webinar; still there are some common mistakes that most of the companies make in their trade lead generation webinars. We can break these mistakes in three different categories for your better understanding:
? What should happen before webinar?
? How to deliver your webinar?
? What steps should be taken after the completion of webinar?
Here, we are mentioning 12 common mistakes made by the entrepreneurs while organizing a lead generation webinar.
Mistakes before lead generation webinar
1. Not offering webinar to the diverse segment of customers
If you wish to generate good leads through your webinar, then segment out your market and design specific webinars for different sections of customers. Your targeted attention towards them will make the attendees get better involved in your business.
2. Choosing dry topic
Dull and boring webinar topic decreases your chances of success even before it takes place. The topic you choose should be attractive and able to generate immediate response from the prospects, so that register for it in the first place. Don't go for common topics, be different and stand out in the competition.
3. Not surveying prospects once the registration is done
Surveying your prospects after registration leaves positive impact on them and also enhances their eagerness to be a part of your webinar. If you are not doing this, then you are making a big mistake. By surveying them, you will get the idea about your attendees, which will help you in tailoring your presentation as per the specific needs of the prospective customer.
4. Not preparing handouts
Providing handouts to the prospects before webinar shows your involvement and effort in webinar. This also generates curiosity among the prospects to know more about our webinar. Your handout gives them a bit of information that creates interest in your prospects.
5. Not using video before the event
Use video during the registrations and before the webinar for reminding your prospects about your webinar. There is a possibility that they might forget about your webinar so keep your webinar date fresh in their mind by making an interesting video.
Mistakes that disrupt your delivery
6. Being boring
Organizing a webinar is not a big deal, but selling on them is what matters a lot. Entertain your audience for turning them into quality leads. Make your webinar interesting that will not only entertain but completely engage your audience.
7. Having "me" content
This is the most common mistake, no matter how big your company is; the webinar you have organized is not about you or your company. It is about your audience and their problems. Talk about their issues ant not about your company's achievements.
8. Reading from your slides
The slides you use in webinar are meant for recapturing the attention of your audience not for reading the whole thing from them. This leaves a wrong impression on the prospects. Instead of reading from slides you can use them for graphs, illustrations etc. Pose questions to make your webinar interactive.
9. Not having enough testimony
Most of the people look for reasons not to buy your offerings. Provide them with the proofs about the effectiveness and excellence of your offerings. Make it hard for them to resist your offer.
10. Not defining a clear course of action after the webinar
Instead of ending your webinar with a statement like "for more information and business related call at our office", give your audience a clear path to follow. Try, call them out specifically and understand their queries.
Mistakes that waste all the effort you have put in lead generation webinar
11. Not having an effective follow up process
Thinking of handing your leads to the sales person means you are missing out on lots of clients and potential profits. The end of your webinar should trigger a series of follow ups through various mediums. Hit your leads at their area of interest and stay in front of them.
12. Ignoring non buyers
It is not necessary that everyone will buy at the first point only. Some prospects may show interest in your offerings at later stage, so don't ignore them. Ignoring non buyers at webinar means you are missing out huge profit potential. Develop a well-planned follow up process and eventually convert non-buyers into buyers.
Avoiding these common mistakes will not only make your lead generation webinar marketing a sure shot success; but also provide you a strong stand in the market as a reliable and successful business entity.
Category Tags