The Ever Increasing Benefit Of B2B Portal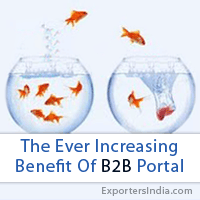 The novel and revolutionary tactic to manage your business today is a web presence with a B2B portal. It is to be noted that B2B portal can considerably enhance the company's output in terms of Revenue Growth and Cost Saving. Business sellers namely manufacturers, dealers, wholesalers and retailers find B2B portals as an arena to explore global prospects and it is here where product catalogs plays an essential role.
Understanding A B2B Portal
An access point to World Wide Web is a B2B portal. A B2B portal is a distinctive type of website with the facility to carry out electronic business and control noteworthy parts of commercial business processes.
Primary Constituents Of A B2B Portal
Supply Chain Management- The execution of supply chain management solutions is ideal for achieving exceedingly high financial benefits thus increasing the productivity of the company. Also, it enables quicker order processing, superior visibility, the abolition of unintentional purchasing, etc.

Marketplace is a sophisticated shopping cart, which is incorporated into the electronic bazaar to facilitate automatic buying system.

Electronic auction system - The existence of the online auction system aids in liquidating surplus goods easily.

Storefront for Participants- Every member of the B2B portal has a Storefront which reveals the profile of the company, the products and services it offers, etc.

Forum- Facilitates the process of an organized online discussion board, where partakers discuss on specific subjects by posting enquiry, comments and feedback.

Internal Messaging System- Permits the members of the B2B portal send / receive messages from other participants and the company.

Classified Catalog- Enables the company associates to post important notices in diverse preset layout.

Directory of Companies- Consists of a listing of all registered associates of the B2B portal.

E-catalog- Comprises of a hierarchy of product and service categories based on UNSPCS (an international products and services classification method).

Product Content Adding System is a method which permits users to integrate products or services list with precise and current information.

Product Notification- Is a method which generates an alert, which is send by email to a user.

Various other features can also be incorporated in the B2B portal namely- News Aggregation using RSS feed, Electronic Journal, Press Room, Contact Management, Document Repository, etc.
Advantages Of A B2B Portal
B2B portal is no longer a fancy idea. Today they are an indispensable prerequisite for any kind of business organization. There are massive advantages of owing a B2B portal.
Through B2B, potential customers can get quicker and simpler access to product information, faster answer to their requirements, get enhanced customer support while products online. Updating product content and other information using customized forms can help buyers and other associates to take critical decision promptly.
With Value Added Services there is a massive increase in revenue, as the B2B portal is used as the primary sales gateway.
The cost of processing orders reduces significantly where the B2B portal incorporates the supply chain management solution.
Clearer visibility and forecasting capability of the B2B portal helps companies noticeably lessen inventory keeping costs.
Low Customer Acquisition Cost
Effective portal branding on the Internet is a cheaper method of acquiring customers.
Advanced customer service capability has enabled unvarying communication with consumers through the B2B portal, which in turn has assisted the companies to serve clients better.
With the facility of tracking the complete ordering process from payment to delivery brings greater customer service.
Customers can also directly buy products by means of the shopping cart, thus decreasing sourcing time cycle.
A common interaction platform is created for the buyers and sellers, which is beneficial for procuring valuable feedbacks, building new business association by easy dissemination of important information. The facility of real time access to updated product information is essential for a correct buying decision.
In a nutshell, it can be said that a B2B portal is the essential mechanism in bridging the gap between buyers and the sellers on the World Wide Web. So, it is advisable for a business seller aiming to make big profits, to come up with well-designed B2B portal.
Category Tags
1 thoughts on "The Ever Increasing Benefit Of B2B Portal"