Thoughtful Corporate Gift Ideas For Diwali 2018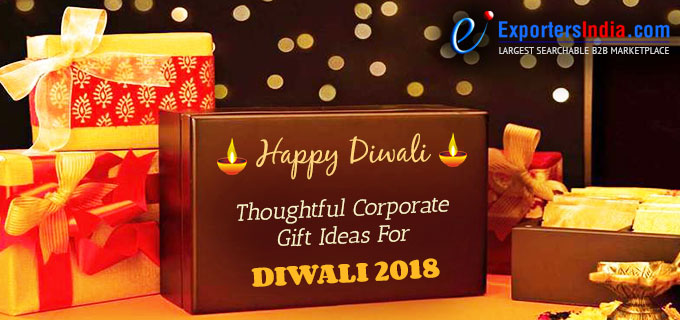 Whether it is a small-size company or a multinational corporation, distributing gifts among the employees is a tradition followed in every company on Diwali. This Diwali 2018, instead of gifting the regular sweet boxes, chocolates, dry fruit boxes, and sweets & namkeen combo, go for a more thoughtful gift for your employees to show that you care about them and are ready to go the extra mile to bring smiles on their faces. The time and money you would invest in choosing a more thoughtful Diwali gift for your employees would not just show that you value and care for them but also increase their dedication towards your company and nurture fruitful results for the future.
To help you cut down the time invested in researching and shortlisting some nice corporate gifts for your employees, we have presented a short list of some of the most thoughtful corporate gift ideas for Diwali 2018. Read them below:
Thermoflask bottles have become quite popular among people. Gifting them on this Diwali could be a great way to make your employees happy. There are many leading brands like Milton, Nayasa, Cello, etc., that are offering stylish thermoflask bottles in different sizes, designs, and patterns.  Employees would certainly love these bottles as they would keep their hot water hot and cold water cold during the office hours.
A very thoughtful thing to gift your employees on Diwali 2018 is a small indoor office plant. There are a number of plants available in the nursery that can be placed on the desk of the employees. These plants not just add a touch of greenery to the workstation but also purify the air around and make the place cooler. Employers can gift beautiful ceramic pots with the plants planted in them. There are different types of indoor plants that are ideal for gifting on Diwali. One could choose from money plants, peace lily, bonsai, African violet, pothos, fittonia, etc.
Personalized Office Diaries
Make each employee feel special by getting office diaries personalized with their names or initials. Gifting office diaries can be a great gift for Diwali 2018. However, instead of giving away your company's diaries, gift them beautifully decorated diaries with festive colors and with their initials engraved on top would give the employees a sense of being valued on this Diwali. Moreover, it wouldn't cost a lot if you place bulk orders for this personalization work.
The pooja thali used for Diwali poojan plays an important role on this auspicious day. The employers can drench their employees in the mood of festive poojan by gifting them a beautifully decorated Diwali pooja thali. The manufacturers and suppliers of corporate gifts are now coming up with bronze, brass, copper, silver, and even fiber. Many of these are beautifully decorated with gota, flowers, velvet borders, etc. These thalis should have small idols or figurines of Ganesh and Lakshmi, roli, diya, handheld pooja bell, sweets, and dry fruits.
Lunch boxes are one of the essentials of a working professional's life. It is to be carried every day to the office. You can make your employees feel that you value their efforts by gifting them lunch box sets for this Diwali. There are many types of lunch boxes available now. From the hot & cold ones and the electric heating ones to the ones with insulated cover or different sections, there is a plethora of options for the employees to choose from. One can also go for the lunch boxes with the bags as they are currently in trend as well.
Gifting utensils is a sign of good luck and prosperity on Diwali. This Diwali, bring a smile on the faces of your employees by gifting them a silver, brass, bronze, or copper bowl set. Many gift providers offer a wide range of bowl sets with beautiful engravings and metal plating that make them a nice gift for a festival like Diwali. These bowls could also be packed in a nice velvet box to add to its overall charm.
Apart from that, there are a number of other corporate gifts that employers can gift to their employees. These could be wall clocks, metallic figurines, tray packed with diyas, scented candles, table clock, office stationery items, mugs and much more. So, make this Diwali more special for your employees by showering them with these thoughtful Diwali gifts.
Category Tags