Tips For Developing An Effective Supplier Management System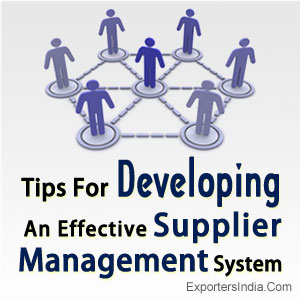 An Effective Supplier Management System is essential for ensuring market competitiveness & cutting down costs. With the competition between firms getting fiercer every day, an Effective Supplier Management System goes a long way in ensuring that a business maintains its edge over other competitors.
Effective Supplier Management System: What All Aspects Does It Cover?
Supplier Management System is a wide concept that covers all aspects related to the supply chain of a business. It involves choosing a competent supplier for the business, maintaining a good working relationship with suppliers, effective risk management, & cutting down costs.
Why Effective Supplier Management System Is Important?
Anybody who has had any dealing with the business world will understand the importance of a supply chain & how it can most effectively make or break the reputation of the business. An inefficient supply chain would mean that the customers have to suffer delays, extended servicing time, sub-standard product quality (due to improper storage during transit), etc. With an effective Supplier Management System in place, a business can gain many benefits like - cost effectiveness, effective asset/resource management, reliable resources, etc. A business and its suppliers have to work-in-tandem for effectively managing the customer demands, and ensuring that their needs are effectively met on time.
Tips For Developing An Effective Supplier Management System
Strategic business decisions should take supplier performance into consideration for the efficient working of the system. There must a tangible system in place to evaluate the supplier chain performance.

There should be a proper communication channel open between the suppliers and the management. Proper communication is essential to align the business goals with the strategic initiatives of the supply chain. This ensures a fruitful and a lasting relationship between the business & the suppliers. Communication is also necessary to identify the various roadblocks encountered by the suppliers. These issues can be sorted out by brainstorming, implementing strategies & mutual talks.

Implementing supply management tools and technology is also essential for effective Supplier Management System.
A smooth functioning supply chain is the foundation of a successful business. Thus, effective Supplier Management System has a direct effect on the bottom line of the business.
Indian Suppliers Directory
Category Tags
29 thoughts on "Tips For Developing An Effective Supplier Management System"