Tips For Finding B2B Clients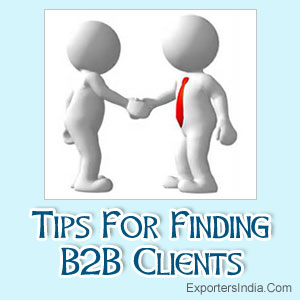 Finding clients in a B2B or Business to Business endeavor can be a difficult affair, especially for new enterprises. There are prominent differences in the ways that the marketing procedures operate in a B2B company and the ways that they operate in a B2C company. Failure to take care of the issues which are distinctive to B2B businesses is often the primary reason for failure to Find B2B Clients. The following Tips For Finding B2B Clients will go a long way in ensuring that the right B2B Clients are found.
Quality Over Quantity: It is important to realize that B2B endeavors grow more due to the right partners rather than the number of the partners. It is advisable to approach only a select few clients and work towards growing quality relationships with them rather than concentrating on increasing the number of clients.
Relationship Over Sales: Concentrate on the relationship with the client. B2B businesses are about long term associations and more the number of trusted clients, the better the chance of growth.
Direct Approach: When it comes to finding B2B Clients, it is often better to approach the potential clients directly. The probable clients should be carefully selected and a direct approach with an email or a phone call would always go a long way in beginning a long term relationship.
The List Of Potential Clients: While finalizing the list of potential clients, it is better to select organizations which provide products and services which complement yours. Organizations with products and services which are complementary in nature can easily develop a mutually benefitting relationship.
Pay Per Click Advertisement: The Pay Per Click Advertisement (PPC) can be used to attract the relevant clients. PPC is a useful tool of finding clients as it incurs cost only for the number of times that the client actually lands at your website.
Social Networking: Social Networking Sites like Facebook, etc. are often used as convenient tools for networking. These can be utilized to find the relevant B2B Clients.
In B2B businesses, a long term client is a prized catch. Thus, once the client has started dealing, it is important to ensure a long term association with him.
Category Tags
1 thoughts on "Tips For Finding B2B Clients"